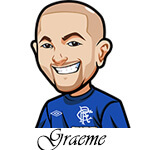 Well thank you Matt Kuchar for some Sunday excitement this week, and a cash that gave us practically a breakeven week (1/4u loss).
He came very close to winning it too and it was a blast to watch.
For me it was also a win just seeing Patrick Cantlay not win! I said last week he was very, very close to making the cut for me and if he was 25/1 instead of 20/1 I would have bet him. So it was scary seeing him on the last day there right up there and I've never wanted someone to mess up more ha.
Anyway good to get that one under the belt and hopefully we can keep rolling from here on out.
Sometimes it's not even about the wins – it's about the non-losses. There was so many golfers last week that I wanted to back and didn't and good to see that only Cantlay would have been a cash.
Here's the Kuchar slip:

No tips this week. Just thought I'd put up a post so you were all aware.
Julian Suri and Fabrizio Zanotti probably both represent value in the Trophee Hassan II if you're begging for action.
Mark Anderson in the Web.com at 40/1 might be a decent play too.