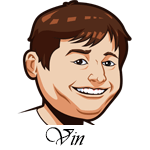 Follow @SBTSportBetting
A tough day yesterday, but we are still 45-37-1 on the season. A profit of +2.38 units if you took all of our plays on the season. I update that sidebar almost every day and have complete transparency in my record. These last two days have sucked, but that's just baseball. Streaks happen. Weird things happen.
Yesterday, the Red Sox offense did exactly what I thought it would do. They chased Yonny Chirinos early and got into the bullpen. They scored a run in their first five innings. That's what I was looking for. David Price didn't hold up his end of the equation though and the bullpen really didn't.
In baseball, you try not to take too much stock in a single game and instead go with the larger sample size. One team has hit Carlos Carrasco this season, the Mariners in his first start of the season. He's been awesome since and I expected him to be awesome here. He wasn't. The Mariners rocked him. Seattle is my favorite team in this league so betting against them isn't something I love doing, but this was a great spot for the Indians. Carrasco just had a bad day and the M's jumped on him. These things happen to even the best of pitchers.
Like The Rock lip syncing Taylor Swift, we need to shake it off, shake it off. Let's finish the weekend strong and get some wins to end the month.
[text-blocks id="137″ slug="email"]
Toronto Blue Jays vs. Texas Rangers Betting Tips:
Martin Perez made some adjustments in his last start and pitched his best game of the season, but I am not buying those adjustments. He's not quite as bad as his 9.82 ERA/6.45 FIP, but I do like this Jays offense to hit him today. He has low strikeout numbers and high walk numbers throughout his career and I like the Jays to get some runs today.
He goes against J.A. Happ who has been exactly who he is supposed to be thus far this season. He has a 3.72 ERA/3.62 FIP which is right on projections with the added bonus of a slight uptick in strikeouts. I really don't like the way that the Rangers have hit lefties this season, just a 84 wRC+ (100 is average) and I like this match-up for the Jays quite a bit. So much I am laying the runs.
Bet Jays -1.5 at: [text-blocks id="87″ slug="bet-mlb"]
St. Louis Cardinals vs. Pittsburgh Pirates Betting Tips:
Nick Kingham is making his major league debut today against a very powerful Cardinals offense and I don't love his chances. In 2017, he had a 4.13 ERA/3.59 FIP at Triple-A which doesn't translate to dominating stuff. Throw in the jitters of a major league debut and a 105 wRC+ for the Cardinals offense against righties, and I don't love his chances here.
Luke Weaver had a couple of rough starts against the Cubs and Mets, but before that he was golden. The Pirates offense is not the Cubs or Mets and I like him to make a few adjustments here and ride his offense to a win.
Bet Cardinals -135 at: [text-blocks id="87″ slug="bet-mlb"]
Follow @SBTSportBetting