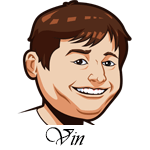 Follow @SBTSportBetting
An Important Note: You will see a bunch of design changes etc on the site today. More will be explained in a post tomorrow. If things look off just ignore them.
The NBA is getting down to it. We are less than twenty days away from the play-in tournament and there is still a lot to be decided in the playoff race.
The Suns and Jazz are in a fight for the top seed in the West. They play on Friday night and if the Suns win, they'll take the top seed. If the Jazz win, they'll not only have the top seed but also be two up in the loss game. A very high stakes game for those two, for sure. The Clippers are technically still in it, but with more games played and three games back you can probably forget about their chances.
The top seed in the East is also still up for grabs. The Nets are up top currently, but the Sixers just a game behind and the Bucks are 3.5 behind. The Bucks still have two games left against the Nets so this could get interesting. This should be a real dogfight as the difference between playing one of those two teams in round two or playing any of the other East playoff teams is huge.
No MLB tips today as the system doesn't like much from the limited schedule.
Best Odds for NBA:
Golden State Warriors at Minnesota Timberwolves Betting Tips:
For some reason, the Wolves are hot right now. They've won three straight and five out of their past seven games. They haven't all been easy either with a win over the Heat and two wins over the top-seeded Utah Jazz. Getting D'Angelo Russell back healthy has definitely helped them for sure.
The Warriors have been the same up-and-down team they've been all season. They are coming off an ugly, ugly loss to the Mavericks that saw them score just 29 points in the first half. This team has a ton of injuries to their bench unit and things just aren't going great there right now.
Golden State has beaten Minnesota twice this season, but both games were without Karl-Anthony Towns and D'Angelo Russell. With those two back, I think they can make this a ballgame at home.

Milwaukee Bucks at Houston Rockets Betting Tips:
This line is pretty high, but the Rockets are just so bad and the Bucks really have something to play for right now. Houston have lost five straight and ten out of their past twelve games.
The Bucks are a team in need of some adjustments after some terrible fourth quarter performances of late. They should be locked in here and I full expect them to cover this spread. The Rockets simply don't have the firepower to compete.

Toronto Raptors at Denver Nuggets Betting Tips:
At Denver is one of the hardest match-ups in the NBA and it's usually worth an extra couple of points just for playing there. So, why are the Nuggets only favored by three points here?
I know they have had injury issues, but this team is still playing well. They've won their last two games by thirteen or more and are relatively well rested heading into this one. I don't get it.
Lay the points, get the win.
Best Sportsbook To Bet NBA:
Register an Account.
All betting odds and props will now be viewable under the event listing.
You can deposit to BetOnline via over 20 different options such as credit card.
Follow @SBTSportBetting