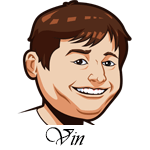 Follow @SBTSportBetting
A 1-2 night last night and this one hurt. Both of the losses came in 1-run games with both teams having a lot of missed opportunities to win the game.
The worst of these, had to be the Tigers over the Pirates. We had Detroit because we like Michael Fulmer in this match-up and he pitched an absolute gem. 8 innings and only one earned run. The Tigers only managed two hits in the entire game. All due respect to Trevor Williams (who had a no-hitter through six), but this was just a sad performance from the Tigers offense that wasted a great start. That might be the case with this team more often than not this season.
Our other loss was Indians dropping one to the Mariners. The bullpen compeltely faltered for Cleveland in this one as Nick Goody and Tyler Olson gave up three runs to drop the game, 5-4. The crazy thing about this one was Dee Gordon hitting a homerun. Before this game, Dee had played 713 games with 3022 plate appearances and only managed 11 homeruns.
The Astros put us on the board with a win. This one wasn't really in doubt once the Astros got on the board and they rolled 8-2.
Monday is the start of a new week with new series starting up. That means a whole new set of match-ups so let's get into what Monday holds and get this week started right.
[text-blocks id="137″ slug="email"]
St. Louis Cardinals vs. Milwaukee Brewers Betting Tips:
The Brewers are having their home opener today and they re-arranged their rotation to ensure Zach Davies would start this game. Davies had a big breakout last year, going 17-9 with a 3.90 ERA. A lot of people are expecting him to make another leap this year and improve upon those stats. This is a big start for him and I expect him to live up to the moment. The Cardinals didn't impress much offensively in the first two games and they don't scare me much here.
He goes against Miles Mikolas who is making his return from Japan this season. He was in the Rangers system before heading to Japan in 2014 where he posted a 2.18 ERA over three seasons. Impressive stats, but I am taking a wait and see approach with this guy. The Brewers offense is tough and they have a lot of guys who can hurt you.
Bet the Brewers -117 at: [text-blocks id="87″ slug="bet-mlb"]
Texas Rangers vs. Oakland Athletics Betting Tips:
Bartolo Colon starts this one for the Rangers and I love the Athletics offense here. Matt Olson, Matt Chapman and Khris Davis all have some serious power and I'd be shocked if one of those three doesn't take Colon deep. This is a 45-year old pitcher that looked washed last season when he posted a 5.21 FIP with 1.8 HR/9. He is not great and the A's should hit him hard.
He goes against Andrew Triggs who was 8 years old when Colon made his MLB debut. In 12 starts last season he had a 4.47 FIP and only made it past the sixth inning once. The A's bullpen is scary (in the bad way) and I just think this game is going to see a lot of homeruns and a high final score.
Bet Over Rangers/Athletics Over 9 Runs at: [text-blocks id="87″ slug="bet-mlb"]
[text-blocks id="110″ slug="middle-ad"]
Follow @SBTSportBetting