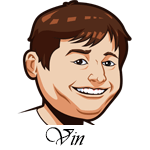 Follow @SBTSportBetting
Yesterday was a good example of way I hate betting unders. We went 0-2 and neither one was particularly close. One bad inning and it's all down the drain.
Perhaps I overrated Castillo a bit and didn't properly rate the Reds bullpen. James Paxton looked terrible and not ready for the season. Did he need a bit more seasoning in spring training? Was this just a bad match-up for him? Or just a bad day at the office? It's always hard to know when it's the first week of the season. Weird stuff happens. Both games though were a good example of why it's no fun betting unders. Once it's over, there's no turning back and games can end early for you.
The ball was really flying out yesterday as overs went 8-6. All of these homeruns really mess up the narrative that pitchers are ahead of the hitters. I still think that's true, but you really need to pick your spots carefully.
I'm happy with our overall record though. 5-3-1 is not bad considering how much data we have for the season. Let's take a look at today's games and get back on track today.
[text-blocks id="137″ slug="email"]
Detroit Tigers vs. Pittsburgh Pirates Betting Tips:
Yesterday's game got rained out, but I feel pretty much the same about the game that will be made up as part of a doubleheader today so let's just paste yesterday's tip here.
The Tigers showed more offensive ability than I was expecting yesterday and Miguel Cabrera looked solid. The thing that I like about them today is that they have Michael Fulmer on the mound going for them. Fulmer is a very solid pitcher who holds a career 3.45 ERA/3.71 FIP with solid peripheral numbers. This season is basically an audition for him to go to a better team in a trade so I am expecting a big year from him

The Pirates send Trevor Williams who is decent, but I think he'll get hit and he won't last long. Both of these bullpens should be tired after yesterday's marathon so whatever starter last deeper could be the difference. I think that's Fulmer.
Bet Tigers -129 at: [text-blocks id="87″ slug="bet-mlb"]
Houston Astros vs. Texas Rangers Betting Tips:
Gerrit Cole makes his debut for the Astros today and I like his match-up against the Rangers today. He's a great pitcher and I think he'll do well against the Rangers today. They can strikeout quite a bit and I think he'll rack them up today.
I can see what the Rangers think they are getting in Mike Minor, but this is the Astros. They are going to hit the ball and they are going to win today. The Rangers bullpen has taken a beating this week and it could again today.
Bet Astros -148 at: [text-blocks id="87″ slug="bet-mlb"]
Cleveland Indians vs. Seattle Mariners Betting Tips:
Seattle has looked good early, but the injury bug is already striking. Nelson Cruz slipped on a stair and will have an MRI on his ankle. Mike Zunino is already on the disabled list and this offense is shorthanded all of the sudden. They still have some talent, but those are two big losses.
Trevor Bauer has been studying elite pitchers in the offseason and is a sleeper Cy Young candidate. He could have a big night here against a shorthanded Mariners offense. Mike Leake is a lot like Minor in the previous game, solid but unspectacular. The Indians are spectacular and they should win this one.
Bet Indians -127 at: [text-blocks id="87″ slug="bet-mlb"]
[text-blocks id="110″ slug="middle-ad"]
Follow @SBTSportBetting