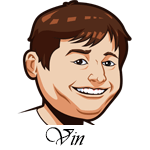 Follow @SBTSportBetting
A nice 2-1 night last night, but it wasn't without drama.
The Cardinals had a one run lead on the Brewers heading into the bottom of the ninth inning. Two outs? No problem. Christian Yelich tied it up with a homerun and then on the very next pitch Ryan Braun hit one out to win the game. Just how I predicted it would happen.
We also grabbed the win with the Astros -1.5 over the Orioles. This one was closer than we'd like until the seventh inning when Josh Reddick hit a grand slam. That locked up the winning night for us. The fun thing for me was that those two hits were about five minutes apart. Very cool.
Colorado lost to the Padres in the late game. The Rockies had a one-run lead going into the sixth, but then things just imploded as the Padres scored six runs in the next two innings. This would've been the perfect place for a five-inning play as Tyson Ross was our main target in this one. Alas…
I am leaving on vacation today as I'm heading down to New Orleans for Wrestlemania. I'll do my best to keep tips posted on a daily basis throughout the weekend, but there is a chance I'll miss a day. If you've ever been to New Orleans, you know why.
One final note, this weekend is the Masters and that means it's time to check out GolfBettingTips.org. I've won some big money off this site already this season (a 22/1 and 35/1 on the same weekend!) and will be following these picks myself.
[text-blocks id="137″ slug="email"]
Tampa Bay Rays vs. New York Yankees Betting Tips:
I think this one will play, a late start but it should play as it looks like rain will clear around 2pm.
I really hope that it does because the wind looks to be blowing out about 20 MPH to left center. That favors right handed power hitters and the Yankees just so happen to have Giancarlo Stanton, Aaron Judge and Gary Sanchez. This one could get ugly. I am a huge fan of Blake Snell of the Rays stuff, but a left handed pitcher against those three guys with the wind blowing out where there is also a short porch in the outfield? This is the perfect storm of power hitting, homerun baseball and I love the Yankees today. So much, that this is my first double bet game of the season.
Bet the Yankees -1.5 and Yankees/Rays Over 8 Runs at: [text-blocks id="87″ slug="bet-mlb"]
Seattle Mariners vs. San Francisco Giants Betting Tips:
The Giants have really struggled to score thus far this season. Yesterday's 6-4 loss was their highest scoring game of the year and it mostly came against the Mariners fifth starter. Today, they face Felix Hernandez who looked really rejuvenated in his first start of the year. He doesn't have the big strikeout stuff, but he can control the zone and force a lot of ground balls. I think he'll do well against this offense that is really struggling to start the year.
On the other mound, he'll draw Johnny Cueto who looked fantastic in his first start of the year. He threw 7 innings of 1 hit ball and allowed zero runs against the Dodgers in his first start of the season. He's very similar to Felix in that he's more about getting outs than getting strikeouts. With Nelson Cruz and Mike Zunino out of the lineup, the Mariners have less power and the offense is more about getting on base. Something that's not that easy against Cueto.
This is should be a really fun match-up between two really crafty pitchers and I'm not expecting a lot of runs to be scored in this one.
Bet Mariners/Giants Under 7.5 Runs at: [text-blocks id="87″ slug="bet-mlb"]
[text-blocks id="110″ slug="middle-ad"]
Follow @SBTSportBetting