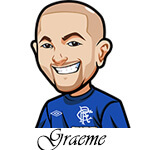 A nice little cash for a profit last week in the Phoenix Open thanks to Bubba Watson.
That was a nice one as I wasn't expecting us to even get anything from that. Bubba and Grace were both outside chances of a top 5 finish but they needed a solid run. With everyone else doing well I wasn't expecting much.
Then Bubba went on that awesome run to finish up tied for 3rd with that -5 last day.
I said he is going to win a tournament soon and after that – yep has to be any day now. Well that or he'll just peter out. But I am hoping he can capitalzie on this.
Here's the betting slip for that one: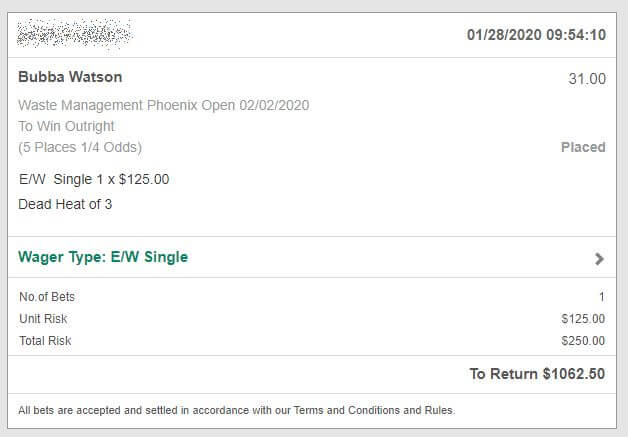 Let's jump right into this weeks action:
AT&T Pebble Beach Pro-Am Betting Tips:
A tournament with a lot of high variance with the amateur partners and of course when people play. Wind can really affect things and the early starters will probably have an advantage.
Patrick Cantlay stands at the top of the metrics for me but course/current form and odds just don't make it worth it for me. I want to back Mickelson but at that price I can't. Despite his great performance last week I am not seeing value. Jetlag gonna hit him surely.
Paul Casey: 1/4u to win & E/W. 20/1. The price isn't great. If he was say 30/1 I'd probably go as high as 1/2u on him. He's playing some solid golf and you get the feeling he might just own it sometime soon and that could be here where he came 2nd last year, and 8th the year before. Again not a great price.
Kevin Na: 1/8u to win & E/W. 70/1. Not exactly burning it up in current form and has a few missed cuts here. But he pops up in the metrics and some punters I respect like him too here so worth a play.
Adam Hadwin: 1/8u to win & E/W. 50/1. Pops up on the metrics. Nothing great here the two times he has played here and not in big form. Due to having a child he hasn't played much. Surely he is chomping at the bit and looking forward to playing here. Enthusiasm can be a big factor.
Mark Hubbard: 1/8u to win & E/W. 150/1. Excellent performance last week. A lot of experience on Spyglass and he loves that course. Spyglass can be the deciding factor for some people. Could pull out a big surprise here.