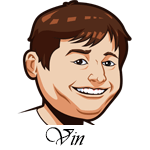 A 3-0 record last night.
We took the over on the Orioles/Phillies and this had one of the crazier finishes you'll ever see. I was maybe a bit worried about this one as at the end of the sixth inning there were only six runs scored. We needed nine runs to hit the over so it was closer than I would've liked at this point. Those worries turned out to be for nothing as the score the rest of the way was 7-6. These teams just started trading the lead back and forth until extra innings and the over came in easily with a final score of 10-9.
It was an even closer over with the Marlins and Blue Jays game. The starters did well and the Jays took a 4-1 lead into the ninth inning. I was counting this one a loss at this point, but then a 3-run homerun tied the game and we went to extras. That locked in the win for us and Travis Shaw walked off the Jays in their new home in Buffalo.
Finally, Max Scherzer did the job and we got the win with the Nationals over the Mets. Scherzer only allowed one run over six innings with seven strikeouts while the bullpen did the rest. This was a nail-biter til the end, but the Nats pulled it out 2-1.
A much needed undefeated night. Let's take a look at tonight's game and see if we can keep this roll going.
Best Odds for MLB:
All tips based on the starting pitchers listed. Tips should be considered void if any pitching changes are made unless otherwise noted.
San Francisco Giants at Houston Astros Betting Tips:
Giants: Trevor Cahill 5.98 ERA/6.13 FIP (2019)
Astros: Zack Greinke 2.93 ERA/3.22 FIP (2019)
We're going back to the well with the Astros and let's just hope they don't blow it in the late innings for us again. That happened twice last week and I am definitely a bit nervous to put this one out there.
That said, you have to love this match-up. The team should be very familiar with Trevor Cahill who is not all that great to begin with. He appeared in seven games against this team last season and allowed four homeruns and eight runs in 14.1 innings. He had a 2.2 HR/9 rate last season and that is simply not the kind of numbers you want against an offense like the Astros.
Greinke is one of the top pitchers in the league and has been getting better as the season goes on. The Giants are a middling offense that are probably not even that good. The Astros should absolutely steamroll them here. Lay the runs.
Seattle Mariners at Texas Rangers Betting Tips:
Mariners: 5.79 ERA/4.89 FIP (2020)
Rangers: Jordan Lyles 4.15 ERA/4.64 FIP (2019)
It is extremely hot in Texas and that always makes for good hitting weather. The only problem is this new stadium that hurts hitting a lot when the roof is closed and appears to be better for hitting while the roof is open. So this one is definitely about the roof status.
The system likes the over of nine runs on it's own, but that is assuming a positive hitting environment. Both of these pitchers can give up runs and the bullpens don't impress me a lot. I think this is a good spot for the over if that roof is open and the heat can do its thing.
I am going to update this when we know the roof status. If it's open, we're going over.
UPDATE: It's closed. Staying away.
Best Sportsbook To Bet MLB:
Register an Account.
All betting odds and props will now be viewable under the event listing.
You can deposit to BetOnline via over 20 different options such as credit card.