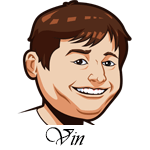 Follow @SBTSportBetting
A tough one yesterday.
You may have heard me reference BABIP before. That stands for batting average on balls in play. The theory is that the pitcher only has so much control over the balls that are in play and most balls will settle in for around a .300 average. Bloops singles, duck snorts, finding the hole; these are all the hits that a pitcher just doesn't have control of. They are usually singles. Well, in last night's Phillies/Mets game the Mets had fourteen hits, but only one of those was an extra base hit. That's a high BABIP in a nutshell. Did he have a bad game? Yes, but that level of singles shows a lot of bad luck too.
Another stat I reference is left on base percentage, or LOB%. This is a pitcher getting lucky, basically. The idea is if you put runners on base, they have a good chance of scoring. The more runners, the higher chance of scoring. A pitcher who strands a lot of runners on base is more often lucky than good. Well, the Diamondbacks won yesterday, but they didn't cover the -1.5. Why? Too many runners left on base. Batters combined for 17 runners left on base and Brett Kennedy allowed nine baserunners in five innings and ended with a 92.1% LOB. That's luck.
A lot of thought goes into the picks and the sytem, luck just doesn't always fall our way. Let's turn it around with a new week and new series.
[text-blocks id="137″ slug="email"]
Atlanta Braves vs. Pittsburgh Pirates Betting Tips:
I continue to not believe in the Chris Archer experiment in Pittsburgh and I won't until I see something out of him. In his three starts for Pittsburgh, he's never made it past five innings and has allowed 2 or more runs in each start. He draws a tough match-up here against the Braves who have been hitting the ball well of late.
Kevin Gausman is the kind of pitcher you want in your rotation. He's a solid 4.22 ERA/4.42 FIP guy. He'll give up some runs, but not kill your team. I'm not looking for him to get killed here, but 2 or 3 runs seems about right with an early exit.
I like the over as this line is just too low. The Braves offense is hot and the Pirates draw a nice match-up with Gausman.
Bet Pirates/Braves Over 7.5 Runs
Cleveland Indians vs. Boston Red Sox Betting Tips:
Corey Kluber has been solid this year, but not as good as he's been in years past. He's had some stinkers and his strikeouts are down a bit this year. He's still very good with a 2.68 ERA/3.31 FIP, but against an offense like the Red Sox? I'll take my chances.
Rick Porcello is on the other mound and he has a 4.04 ERA/3.74 FIP on the year. That's the kind of numbers an offense like Cleveland can feast on and I am not afraid of the over in this one.
Bet Indians/Red Sox Over 8 Runs
The Red Sox offense is hot right now with a 132 wRC+ over the past two weeks and they are the best team in baseball thus far. I think they want to flex that muscle a little bit against the Indians and mark their territory at home, so to speak.
Bet Red Sox -110
Follow @SBTSportBetting