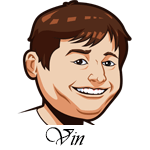 Follow @SBTSportBetting
The Oakland Athletics will just not quit coming. After beating the Rangers handily last night, their record stands at 75-50 which is right there with the Houston Astros atop the American League West. While the Astros have had their fair share of injuries, they still have a +200 run differential and have underplayed their record by quite a bit.
They are about nine wins short of where they should be so while this is certainly an interesting race and anything can happen, make no mistake who is the better team here. It's the Astros.
Still, you can't help but enjoy this run by the Athletics. They have a payroll of right around $79 million on the year. Compared to the Astros who are more than double that at $161 million, or the Nationals ($186m) and Giants ($207m) who aren't even in the playoffs, and I'd say they are doing pretty dang good.
We grabbed another win in preseason football and my tips are now 3-0 in that sorry excuse for football. I'm not a fan of the preseason, but it does fall into certain patterns that can occasionally be exploited. At least, I think that's what's happening. Who knows, it's preseason.
Notable Upcoming Bets:
MLB Betting Tips:
We grabbed a win yesterday with the over on the Indians/Red Sox and it's hard not to go there again. The Red Sox managed 13 hits, but only four runs against Corey Kluber yesterday so imagine what they do today against Shane Bieber. He's had a nice year for a rookie, but there have been some real stinkers in there and the Red Sox are the toughest offense in this league right now. I like them to put up runs here.
Of course, it takes two to tango with these overs and I feel pretty good about the Indians offense against Nathan Eovaldi here. At the very least, I see them getting him out of there early and this one being left up to the bullpen.
Bet Indians/Red Sox Over 9.5 Runs
Another game I am really liking today is the Padres against the Rockies. That Colorado offense has been ice cold of late and they are facing a strong groundball pitcher in Robbie Erlin. Coors Field is hell on pitchers, but groundballers usually can find success. The Padres have been hitting well of late and Tyler Anderson has allowed 17 runs over his past three starts. This one feels good for the Padres and I don't get why the line is so high.
My last pick of the day is also my favorite. The Arizona Diamondbacks offense is one of the very best in this game and today they face Felix Pena at home. That is nice on it's own, but it's the opposite match-up that really sells this one for me. Patrick Corbin has been a strikeout machine this year and he's one of the most dominant lefties in the game. The Angels are bad against lefties with Mike Trout, but without him they are downright terrible against them.
Bet Diamondbacks -1.5 Runs (-105)
Follow @SBTSportBetting