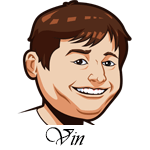 Follow @SBTSportBetting
A 1-1 record last night.
I am so done betting unders. The Brewers and Pirates were two offenses that looked like the absolute perfect teams to bet the under one. They both have struggled on offense and the pitching match-up looked to be one our side. It was 4-1 heading into the eighth inning and I was feeling pretty confident about the under of 8.5. Then the Brewers scored one and the Pirates answered with three, and it went over. I hope some people got this at 9 runs as I recommended and saved the push, but this is why I generally try to stay away from unders. They are just no fun.
The Marlins game ended up as a no bet for me as Elieser Hernandez ended up making the start over Daniel Castano. Sometimes when I pull the starters early things like this happen and I didn't double check this one. The Marlins ended up winning 3-2.
Finally, we got the win with the White Sox over the Cubs. I had a feeling that the Sox would hit Jon Lester and they did just that. Lester allowed eight earned runs in just 3.2 innings with four homeruns allowed. While Dallas Keuchel threw eight innings and only allowed one run as he had 12 groundouts in this game. The White Sox hit a team total of six homeruns in just an absolute slaughter of the North Siders.
From now on I am using 2020 pitching stats unless the sample size is too low. Most of the pitchers today have at least four starts.
Best Odds for MLB:
All tips based on the starting pitchers listed. Tips should be considered void if any pitching changes are made unless otherwise noted.
Boston Red Sox at Baltimore Orioles Betting Tips:
Red Sox: Martin Perez 4.07 ERA/4.82 FIP
Orioles: Alex Cobb 3.76 ERA/ 4.69 FIP
It's always interesting when a new team pops up in the system. A lot of times it will just be the usual suspects, the Dodgers or Yankees, but sometimes it surprises me. Today is one of those days as it likes the Orioles more than the Red Sox today.
It's kind of easy to see why though when you actually look at the numbers. The Orioles have a higher team wRC+, a lower team bullpen FIP, and their starter is slightly better today.
Cobb isn't a starter I'd usually back, but he has a lower walk rate and a higher strikeout rate than Perez. Both of these guys are living off a low BABIP right now, but Cobb's high groundball rate shows that it may be somewhat sustainable. While Perez is posting his lowest HR/9 and HR/FB rate in five seasons. That's just not going to continue.
Let's bet some Orioles baseball.
Philadelphia Phillies at Atlanta Braves Betting Tips:
Phillies: Zack Wheeler 2.81 ERA/3.56 FIP
Braves: Robbie Erlin 5.40 ERA/4.87 FIP
Robbie Erlin isn't a dominant lefty and the Phillies have killed lefties this season. They have a 137 wRC+ against left handed pitchers on the season, tied for fourth best in baseball.
The Braves offense is weakened without Ronald Acuna Jr. and I think Wheeler can have a good game here. His strikeouts are well below his career norms, but there is no underlying reason as to why. I can see that start to get back to where it belongs with a solid start here. The Braves lead the league with a 29.5% strikeout percentage.
Texas Rangers at Seattle Mariners Betting Tips:
Rangers: Jordan Lyles 7.52 ERA/6.42 FIP
Mariners: Justus Sheffield 4.12 ERA/2.41 FIP
Here's another team we don't normally see the system liking, the Mariners. We went against them the other night because they can't hit lefties, but they are much closer to competent against right handed pitchers. Especially today's starter.
Lyles has allowed 4 or more runs in three of his past four starts, including four against the Mariners on August 12th. He's been getting crushed and I think it's a smart play to go against him again today.
The Mariners will send Justus Sheffield to the mound who has looked like the guy they traded James Paxton for. He is yet to allow a homerun this year which won't last forever, but will probably last for tonight. The Rangers are 28th in wRC+ against right handed starters this season with an abysmal 69 wRC+.
Best Sportsbook To Bet MLB:
Register an Account.
All betting odds and props will now be viewable under the event listing.
You can deposit to BetOnline via over 20 different options such as credit card.
Follow @SBTSportBetting