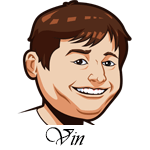 Last night Rich Hill came as close to a perfect game as you can get while also losing in the most heartbreaking fashion imaginable. A perfect game until the ninth inning until a teammate had an error on a routine play. He finished the ninth inning, but the game was still scoreless. His pitch count was low so he went out for the tenth inning and… gave up a homerun to lose the game. Crushing.
The point of this is not that baseball isn't fair or life is cruel (it is, on both accounts), but rather that the Dodgers are really freaking good. If Rich Hill is going to be pitching like this version of Rich Hill, Clayton Kershaw and Yu Darvish as the two best pitchers in the world, and Alex Wood as the next best thing – this team is going to be dangerous in the playoffs. Throw in one of the best closers in the game in Kenley Jansen and I am starting to eye the Dodgers +225 to win the World Series.
Notable Upcoming Bets:
CFL Betting Tips:
Tonight we have a rematch of one of the very best games of the CFL season as the Blue Bombers take on the Argonauts. That last game featured a final score of 41-40 and was a shootout in the truest sense. We're hoping for more fireworks tonight. The Bombers are one of the hottest teams in CFL right now, winning four straight behind the solid play of Harris. It's hard to go against them right now and we're loving the Bombers -1.
I would also take a long hard look at the line on this one. That last game featured 81 points, the Bombers have scored 33+ in six straight games and despite all of that the total is just 55.5. An over bet might do you well here.
[colored_box color="blue"]Bet CFL at: https://www.Bovada.lv[/colored_box]
MLB Betting Tips:
The last time Chris Sale faced the Indians he had his very worst start of the year and allowed seven runs. The time before that he faced them, in 2016 with the White Sox, he allowed six runs. Is there something about Sale vs. the Indians? He'll go against Trevor Bauer tonight who is a very hittable pitcher. Call me crazy, but I'm going over 7 runs on this one.
Minnesota seems to have turned a corner and become a real contender in the American League Wild Card race. Their offense has really been playing well lately and they have a nice match-up with lefty Derek Holland tonight. Holland has been absolutely rocked in his last two starts, giving up 14 runs in 4 2/3 innings. The Twins send Jose Berrios who is the best pitcher on their staff. Twins -156 is high, but it feels low and we're on it.
The weird thing about the Texas Ranger is they have fifth best run differential in the AL, but they aren't really considered a contender for the Wild Card. They are 7-3 in their last ten and could be making their move now. Tonight they send lefty Martin Perez to the mound and while that isn't always good news, the Angels are last in all of baseball against lefties in OPS. They got against Troy Scribner who doesn't really scare anyone. Rangers +130 is a good value play.
[colored_box color="blue"]Bet MLB all season long at: https://www.Bovada.lv [/colored_box]