August 25th, 2016 Betting Tips: MLB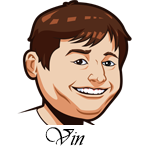 By
All hail the AL East. The Toronto Blue Jays and Red Sox are currently tied for the AL East lead and the Orioles are just a game behind them and currently hold a three-game lead for the second AL Wild Card. While these teams currently hold the 3rd, 4th and 5th best records in the American League, I wouldn't be so surprised if they ended the season as the top three teams. The Indians and Rangers have been struggling of late and this race has made these teams so strong. These teams have a lot of games left against each other so this race is still pretty wide open, but as long as they aren't playing each other we will be keeping a close eye on them. All they do is win.
Speaking of winning, the Royals just had a nine game winning streak broken last night as they ran into the buzzsaw that is Jose Fernandez. He'd had a couple of rough starts of late, but he got it done last night and showed why he is one of the best pitchers in the game right now. The Royals and Marlins finish their series tonight with the Royals looking to get back on track in the AL Wild Card race.
The Dodgers and Giants are also wrapping up their series tonight and the Giants have to be desperate for a win. They lost the first two games of this series and now sit three games behind the Dodgers in the West. Making matters worse for them, they now hold just a 0.5 game lead for home field in the Wild Card game as the Cardinals are gaining on them fast.
#1 Sportsbook Online for Americans

Good deposit bonus, lot of unique bets & props. Excellent mobile & live betting.
MLB Betting Tips:
Just because they lost yesterday doesn't mean that the Royals devil magic is over with. The Marlins Tom Koehler is not a very tough pitcher and the Marlins without Giancarlo Stanton simply don't have enough power in their lineup to punish a pitcher like Edinson Volquez. Royals +119 is the play tonight.
Since his return from the minors, Wily Peralta of the Brewers has actually looked like a pretty decent pitcher. It's a small sample size, but a 3.50 ERA isn't bad and for his career he has always pitched better in the second half. He goes against Chad Kuhl today who has looked good as a rookie, but his peripheral stats hint at some regression. The Pirates have lost five of their past six games and they've always struggled in Milwaukee. The Brewers +113 are a good value tonight.
Seattle gets their ace back tonight as James Paxton returns from a DL stint. I love them to grab the win tonight against Anthony Ranaudo who has a 9.42 ERA thus far this season. The line is a bit high, but considering the pitching matchup I think it's a steal. Mariners -146.
Matt Moore was one of the biggest overpays at the deadline and he hasn't lived up to the price thus far. He has a tough challenge against the Dodgers tonight who are one of the hottest teams in baseball right now. I think things are going to get worse before they get better for the Giants and the Dodgers -116 will extend their division lead tonight.
#1 Sportsbook Online for Americans

Good deposit bonus, lot of unique bets & props. Excellent mobile & live betting.