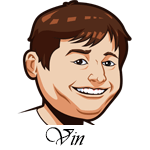 Follow @SBTSportBetting


[Get Exclusive Tips on our Patreon, Ad-Free
]
An awesome 3-0 record last night.
It's felt like we were kind of circling around a day like that for awhile so it was good to finally get it.
I had some major worries about doing the under on the Mets/Nationals (as I do with nearly every under bet), but the Nationals offense did what I thought it would do: nothing and the Mets won 3-0.
The biggest lay-up of the night was the Athletics who won 7-1. That team is good and they draw another good match-up today. I feel sorry for the Mariners and not just because they are my favorite team. The Mariners have played the Astros, Athletics, Astros, Dodgers and now Diamondbacks. Oakland is playing the Twins and last week played the Rangers. Schedules are a monster.
The Cardinals/Rockies game was a bit close, but the right team won and we finished undefeated. Felt good.
Our reward for an undefeated night? Nothing I really like today.
[text-blocks id="137″ slug="email"]
Instead of posting no tips, I thought it would be fun to post my data that the system comes up with and let you all judge for yourselves. Sometimes the problem isn't the data, it's the person interpreting it. So I'm going to post the day's data here and you can all let me know what you think.
A few notes:
The totals in the Mariners/Diamondbacks and the Red Sox/Rays are far different from what Vegas is offering. This is because of the ballpark adjustment in the system. If I remove that, the line is a lot closer to Vegas. My park adjustment for Coors, but for a few stadiums it's always a bit higher or lower. Tropicana and Chase Field are the two best examples.
I like the Athletics more than the system here. When there is a rookie pitcher without a lot of sample size I tend to just use their ZiPs projections from FanGraphs. So for Gonsalves I used 4.58 FIP.
This game also presents another problem in the system in Mike Fiers. His home/road splits are mostly from his time in Detroit. While it doesn't matter as much for a road game, a home game would be a far different environment. In this case, I use the "neutral" number which takes out home/road splits. The score that game would be Oakland 5.12-Twins 4.45, slightly better than what's below.
It is VERY rare for a game to be a true -1.5 based on the system. The Yankees-Orioles is a -1.3 and the -1.5 is -155. So I will often go by feel on there. I go with at least a +1, but will look into other factors that the system doesn't account for like recent starts from pitchers and team health to go off of.
You'll see a lot of 4.2-4.5 scores for teams. That's because the average runs per game is 4.44 and I base projections off that number.
Have fun.
ICHI-BOT Score
Teams
Pitcher
Vegas Line
Runline
ICHI-BOT Line
4.9
Yankees
J.A. Happ
-245
-1.5(-155)
-237
3.6
Orioles
Jimmy Yacabonis
9
+1.5(+135)
8.5
4.7
Reds
Luis Castillo
9.5
+1.5(-145)
9.2
4.6
Cubs
Jose Quintana
-170
-1.5(+125)
-107
3.7
Nationals
Tanner Roark
-112
-1.5(+140)
7.5
3.8
Mets
Zack Wheeler
8
+1.5(-160)
-111
4.1
Rangers
Martin Perez
8.5
+1.5(-170)
8.3
4.2
Giants
Andrew Suarez
-143
-1.5(+148)
-111
4.4
Phillies
Nick Pivetta
-124
-1.5(+135)
-121
4.2
Blue Jays
Aaron Sanchez
9
+1.5(-155)
8.6
5
White Sox
Lucas Giolito
-108
-1.5(+144)
-117
4.8
Tigers
Ryan Carpenter
9.5
+1.5(-165)
9.8
3.9
Red Sox
Rick Porcello
-151
-1.5(+105)
-131
3.6
Rays
Ryan Yarbrough
8.5
+1.5(-125)
7.4
4.8
Yankees
Sonny Gray
-187
-1.5(-125)
-200
3.8
Orioles
Andrew Cashner
9
+1.5(+105)
8.5
4.1
Braves
Anibal Sanchez
-162
-1.5(-110)
-190
3.2
Marlins
Wei-Yin Chen
7.5
+1.5(-110)
7.4
4.2
Pirates
Jameson Taillon
8.5
+1.5(-190)
8.4
4.3
Brewers
Jhoulys Chacin
-131
-1.5(+163)
-113
5
Athletics
Mike Fiers
-150
-1.5(-102)
-147
4.5
Twins
Stephen Gonsalves
9.5
+1.5(-118)
9.5
5.2
Indians
Corey Kluber
-290
-1.5(-175)
-225
3.9
Royals
Heath Fillmyer
8.5
+1.5(+151)
9.1
5.6
Cardinals
John Gant
11
+1.5(-150)
-104
5.1
Rockies
German Marquez
-150
-1.5(+130)
10.7
4.2
Mariners
Wade LeBlanc
8.5
+1.5(-145)
8.8
4.6
Diamondbacks
Robbie Ray
-167
-1.5(+125)
-133
4.4
Astros
Justin Verlander
-183
-1.5(-122)
-148
3.9
Angels
Jaime Barria
7.5
+1.5(+102)
8.3
3.3
Padres
Brett Kennedy
7.5
+1.5(+155)
9
5.7
Dodgers
Clayton Kershaw
-400
-1.5(-180)
-240
Follow @SBTSportBetting