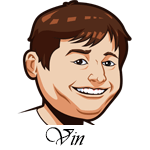 Follow @SBTSportBetting
What's that I see on the schedule today? Is that, is that football? American football, the NFL? Holy cow, I do believe it is.
Summer is moving fast and we've already entered the point of the year when the NFL preseason begins. The Baltimore Ravens will play a nationally televised game against the Chicago Bears in the Hall of Fame game from Canton, OH. While I'm not sure that the 2018 version of the Ravens and Bears should even be called football and preseason football is one of the worst excuses for sport that we have, it's good to have it back. It's good to see it on the schedule.
Of course, we do have some football that matters as well with some CFL action. For those of you with the option, tune into this at some point during the Hall of Fame game and see if you honestly would prefer to watch the preseason over a real CFL game. I bet the answer is no.
Notable Upcoming Bets:
NFL Betting Tips:
Just because I don't love preseason football doesn't mean I'm not going to be betting on it though. This is the rustiest of rust these two teams will be all season and neither one of these offenses is exactly lighting the world on fire. With the coaches not caring too much about winning these things, I tend to lean under and that's exactly what I'll be playing in this one. The Bears and Ravens starting QBs have a hard time throwing touchdowns, I'm supposed to think their second and third string can? Yeah, right. Give me the under 33 points.
MLB Betting Tips:
The greatest rivalry in baseball continues tonight as the Red Sox face the Yankees. As always when these two teams play each other, I'm expecting firework. The Red Sox/Yankees over 10 runs looks like a strong play here. Brian Johnson is rather inexperienced and facing one of the best offense against lefties (even without Aaron Judge) while the Red Sox offense should easily be able to hit CC Sabathia in their home park. These two always seem to play crazy, high scoring games and I don't expect tonight to be much different.
My favorite play of the day is the Diamondbacks -1.5 (+110) over the Giants. Madison Bumgarner makes the start for the Giants and all of his worst starts this year have been on the road. Chase Field is very favorable to hitters and the D-backs hit lefties well. Zack Greinke is having a great season and he faces an ice cold Giants offense in this one. I think the home team rolls here.
CFL Betting Tips:
The Ottawa Redblacks have won 2-0 and are facing a Toronto Argonauts team in transition. They have struggled this season and recently decided to make a change at quarterback with McLeod Bethel-Thompson making his CFL debut in this one. You should never really trust a team making a QB change at this point of the season and I have to go with the Redblacks -6 in this one.
Follow @SBTSportBetting