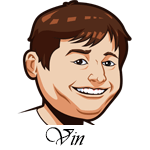 Follow @SBTSportBetting


[Get Exclusive Tips on our Patreon, Ad-Free
]
1-3 last night
A tie after five when we laid the runs, Lance Lynn's best start of the year, and the Brewers bullpen cost us last night. Milwaukee blew a three-run lead in the seventh. That one really hurt as I was counting the winnings at that point.
The Padres debuted their new roster last night and it is scary. It will take the System a little bit to adjust to the new team, but they are already getting the bump from the sportsbooks. Today they are a -275 favorite.
Three tips for tonight on Patreon, two are below.
Sign up today for Patreon and get our entire month of tips for just $11. I'll have MLB nearly every day, Graeme will have F1, golf, and much more.
We are now posting some of our betting tips exclusively on
Patreon
, as well as posting exclusive betting tips there. Here is what you get by supporting us on Patreon:
Exclusive betting tips. Not just the tips omitted from these posts, but Vin will also be posting EVERY MLB System play and Graeme does Golf, WNBA, Formula 1, and various non-EPL soccer tips.
Ad-free experience.
Priority e-mails; receive the e-mails as soon as the tips are posted rather than hours later.
Feeling good about supporting two guys who have worked their butts off writing sports tips on here for free for over 10 years. We promise only to spend it on beer and wings at our local sports bars!
Bet Horse Racing - +£21,565.98 profit on £25/pt staking. Click for more details.
(Advertisement but we have tested it out and have been quite impressed with it)
Los Angeles Dodgers at San Francisco Giants Betting Tips:
LAD – Clayton Kershaw 2.66 ERA/2.60 FIP
SFG – Jakob Junis 2.91 ERA/4.09 FIP (as a starter)


Atlanta Braves at New York Mets Betting Tips:
ATL – Kyle Wright 2.93 ERA/3.38 FIP
NYM – Carlos Carrasco 3.79 ERA/3.43 FIP
Good hitting weather here with winds blow out and warm temperatures.
Both of these pitchers have been good this season, but there are reason to like both offenses.
Wright has a 3.04 ERA/4.47 FIP over his past four starts with a big homerun rate. The Mets offense has been killing it lately with a 143 wRC+ over the last two weeks.
Carrasco has been on fire lately (mostly on account of a low homerun rate), but the Mets bullpen is really struggling of late. They have a 137 FIP- over the last two weeks. The Braves have a 107 wRC+ over the past two weeks.
This could easily be a push, but I think it's worth the bet with the weather.
Braves/Mets Over 8 Runs (-120)


Chicago White Sox at Texas Rangers Betting Tips:
CHW – Johnny Cueto 2.86 ERA/4.20 FIP
TEX – Cole Ragans 4.48 ERA/4.63 FIP (Projected)
Ragans is making his major league debut here and I don't see that going very well for him. Walks look to be a trouble spot for him and the match-up is tough because the White Sox have a 120 wRC+ against lefties this season.
Cueto is a veteran that gets it done. He keeps walks and homeruns down despite getting almost no strikeouts. There is always risk with that profile, but the Rangers are weak against righties with a 94 wRC+ against them.
If it was just those two it might be close, but the bullpens really put it over the top. The White Sox bullpen is very good and has been getting it done over the past month with just a 81 FIP-. The Rangers have not been getting it done with a 112 FIP- over the same period.
White Sox Moneyline (-127)
Bet Horse Racing - +£21,565.98 profit on £25/pt staking. Click for more details.
(Advertisement but we have tested it out and have been quite impressed with it)
Boston Red Sox at Kansas City Royals Betting Tips:
BOS – Nick Pivetta 4.47 ERA/4.16 FIP
KCR – Kris Bubic 5.45 ERA/5.19 FIP
I really went back and forth on this one as it is just so close. The Red Sox kills lefties and Royals struggle against righties, but the Red Sox last two weeks stats on the offensive end are just so bad that they poison the well here. Even with the Royals bullpen being worse over the last two weeks.
This falls just a few decimal points away from a pick for me, but I personally think the Red Sox win here.
Bet Horse Racing - +£21,565.98 profit on £25/pt staking. Click for more details.
(Advertisement but we have tested it out and have been quite impressed with it)
Follow @SBTSportBetting