August 7th, 2018 Betting Tips: MLB, WNBA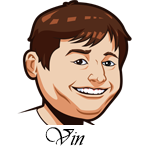 By
The Oakland Athletics have been one of the hottest teams in the league over the past month and today they face off against one of the other top teams over the past couple month, the Los Angeles Dodgers. This should be a good series as both teams are deep in playoff contention and, despite their massive payroll difference, are nearly identical in their offense numbers. The series kicks off tonight with Rich Hill against Sean Manaea who have the same FIP- of 103.
The Mariners are right behind the Athletics for the second Wild Card and they finally get a break as they face the Rangers tonight. This should be interesting as they send Felix Hernandez to the mound against Bartolo Colon. These are two pitchers who have been around forever, but their best days are behind them. I'd love to see Felix with a career like Bartolo in a couple of years, but injuries might not allow that.
#1 Sportsbook Online for Americans

Good deposit bonus, lot of unique bets & props. Excellent mobile & live betting.
MLB Betting Tips:
The Mets are just a disaster this year and it's a tough place for the organization to be in. They can't really afford to go for it thanks to the owners business dealings while they are afraid to sell. They could've done a great job trading Jacob deGrom or Noah Syndergaard, but chose not to. They are just in no man's land.
I'll be happy to bet against them though and will be taking the Reds -114 tonight. Jason Vargas goes for the Mets and he's having a rough season with some really bad results of late. The Reds hit lefties well and I think they'll do exactly that here.
Despite playing at Coors Field, the Rockies offense has been a huge disappointment this season. They should be leading the world in all of the offensive categories, but they are middle of the road with a hugely disappointing 85 wRC+ on the year. Jameson Taillon has a good groundball rate and I expect him to do well here. Chad Bettis on the other hand has an ERA over 5 on the year and I think the Pirates -104 will get it done.
Finally, we have the aforementioned Dodgers/Athletics game. While these two starters are nearly identical in their stats, the offenses aren't when it comes to hitting left handed pitchers. The Athletics have a 102 wRC+ against lefties while the Dodgers are at just 89 wRC+. I think that will be the difference here and the Athletics -108 will roll here.
WNBA Betting Tips:
Just one game that I'm looking at here today and it's the Minnesota Lynx -4 against the Chicago Sky. The Sky are having a disappointing season across the board, but they have really bled points this season as they are allowing 90 per game. The Lynx have a far better defense and are keep teams are 77 per game. I think they get the Sky to play their game and they dominate that game. Minnesota is a great play here and is my play of the day.
#1 Sportsbook Online for Americans

Good deposit bonus, lot of unique bets & props. Excellent mobile & live betting.