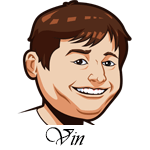 Follow @SBTSportBetting
A 1-2 record last night.
The Diamondbacks grabbed the win in extra innings last night, but that game was unable to reach the over. That was our lone win of the night and it was a close one.
We grabbed the L as the Pirates lost to the Rockies 2-0. A shutout at Coors is always weird to see and a score this low is equally weird when the total was set at 11 runs. This just reinforces my belief that the Rockies offense is a huge letdown this year.
[text-blocks id="137″ slug="email"]
New York Mets vs. Cincinnati Reds Betting Tips:
I'm not sure there is a better representation of the 2018 New York Mets season than Jason Vargas. He has a 8.23 ERA/6.15 FIP/5.04 xFIP this season and has just been pounded. He was expected to be a decent starter behind the stars of the rotation in what was hoped to be a contending year, but that's not what happened. Not even close. I love the Reds against him here as they have a 106 wRC+ against lefties on the year.
Sal Romano isn't having the best season, but against this Mets offense I'm not too worried. I think he'll do enough here to grab a win.
Bet Reds -113 at: [text-blocks id="87″ slug="bet-mlb"]
Pittsburgh Pirates vs. Colorado Rockies Betting Tips:
I'm going right back to the well here on the Pirates. Jameson Taillon has been their best pitcher on the year with a 3.74 ERA/3.56 FIP and a solid groundball rate that should play well at Coors. The Rockies offense is not one that I am buying right now and I like the Pirates a lot here.
Chad Bettis has a 5.10 ERA/5.07 FIP on the year and I am expecting much better things from the Pirates today. They have a 98 wRC+ against righties on the year which should make for a pretty good day against Bettis.
Bet Pirates -112 at: [text-blocks id="87″ slug="bet-mlb"]
Los Angeles Dodgers vs. Oakland Athletics Betting Tips:
This should be a good series as these are two of the hottest teams over the past couple of months. The Athletics are absolutely scorching of late with a 126 wRC+ over the past two weeks and I think they are underpriced a bit here because of Rich Hill. He's been hot lately, but I think he could have some problems here. There is a difference between this offense and the Brewers.
I like Sean Manaea a lot in this match-up. The Dodgers offense has been cold of late and they are only hitting for a 89 wRC+ against lefties on the year. Home field is always good and this pitcher does a lot to suppress offense. A great place to jump on the Oakland bandwagon here.
Bet Oakland -108 at: [text-blocks id="87″ slug="bet-mlb"]
Follow @SBTSportBetting