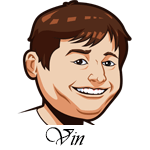 A 2-1 record with a rainout last night.
The Dodgers did exactly what they were supposed to do as they tagged Jeff Samardzija for five runs over four innings. He is bad and the Dodgers are good. I am going to take this bet every time they give it to me.
We also got the win with the Rockies over the Mariners. Yusei Kikuchi was actually very solid through five, but the sixth inning became his unraveling with three runs allowed. The Mariners bullpen then did the rest of the work for us as Erik Swanson and Yohan Ramirez combined for another four runs allowed.
The Phillies/Braves game never had a chance with the amount of storms they got yesterday.
What I can't believe is that the Astros did it to us again. After we picked them and they allowed a walk-off win, we picked them and they allowed a walk-off win. Greinke had a great start and had a 1-0 lead when he left, then the Astros bullpen allowed them to tie immediately after. The game went to extras and the Astros finally took the lead in the top of the 12th only to blow it on the bottom of the 12th. This bullpen is starting to become an issue.
Three picks today. Lots of runs predicted. Let's go.
Best Odds for MLB:
All tips based on the starting pitchers listed. Tips should be considered void if any pitching changes are made unless otherwise noted.
Atlanta Braves at Philadelphia Phillies Betting Tips:
Braves: Kyle Wright 7.67 ERA/6.23 (Career)
Phillies: Jake Arrieta 4.64 ERA/4.89 FIP (2019)
This one was rained out yesterday, but the system is predicting the same thing it predicted yesterday: runs. Two solid offenses against pitchers who walk a lot and give up the long ball. While Arrieta is a bad starter than yesterday's projected starter, he still doesn't project well and his strikeout numbers are even lower. The Phillies bullpen hasn't looked strong in a small sample either.
Wright is one of the worst projected starters and the system sees this one at 11 runs. Take the over at 9.5 if you can get it.
Bet Phillies/Braves Over 9.5 Runs
Arizona Diamondbacks at San Diego Padres Betting Tips:
Diamondbacks: Merrill Kelly 4.42 ERA/4.51 FIP (2019)
Padres: Chris Paddack 3.33 ERA/3.95 FIP (2019)
Paddack is one of the best starters on the board today and it's hard to go against him with the way this Diamondbacks offense has been playing early. They are 28th in wRC+ at 75. When 100 is average, that's pretty bad.
The Padres offense has been very good early with a 115 wRC+. Merrill Kelly is good, but he doesn't excite me and I think this Padres offense can keep his start short. This one is right on the line between where I like to be with the runline/moneyline, but with positive odds the runline I think it's best to lay the runs here.
Colorado Rockies at Seattle Mariners Betting Tips:
Rockies: Ryan Castellani 8.31 ERA/8.25 FIP (2019 – AAA)
Mariners: Nick Margevicius 5.40 ERA/6.80 FIP (2019)
I don't typically like to go over in this park, but just look at this pitching match-up. It's ridiculous. The Rockies hit lefties well and are facing a guy who gave up 1.89 HR/9 last season.
The Mariners offense has been right at league average this season, but Castellani had huge walk rates in AA and AAA over the past two seasons. Last year in Triple-A he had a 6.23 BB/9 rate and a 2.91 HR/9 rate. His strikeouts aren't devastating and I fail to see a scenario where he dominates here. He just doesn't have the stuff.
Definitely bet this one at 9 if you can get it, but the system predicts 10+.
Bet Mariners/Padres Over 9.5 Runs
Best Sportsbook To Bet MLB:
Register an Account.
All betting odds and props will now be viewable under the event listing.
You can deposit to BetOnline via over 20 different options such as credit card.