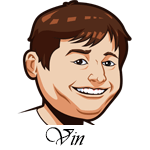 Follow @SBTSportBetting
Woah, a lot of tips to get to today.
The sports schedule is starting to fill up and there is a lot going on out there. Football is getting going, the NBA schedule is coming out, the WNBA is having one of it's best ever seasons, the PGA Championship is this weekend, the CFL is rocking and the MLB season is heading to the home stretch. Just a lot of sports and that means a lot to bet on.
Baseball is still my main focus right now and I'm really liking what I'm seeing out the Arizona Diamondbacks. For some reason, they are +295 to win the NL West despite being in a virtual tie with the Dodgers for the division lead. I think they have the better overall offense and the better bullpen right now. This is, at worst, a coinflip and I think it's worth the money to place a bet on.
Now, here's some more for you to bet on.
NFL Preseason Betting Tips:
A big slate of games tonight, but only one really sticks out to me: the Giants vs. the Browns. I don't feel good about either one of these offenses today, but like the Browns slightly more.
Will Eli Manning even play much? He's 37 years old, he doesn't need preseason snaps. That leaves Davis Webb and fifth round pick Kyle Lauletta. No, thank you. For the Browns, I think we see a good chunk of Baker Mayfield here. I like him more than either of those back-ups and since he's trying to get a starting job, I think he does something good here. I can't believe I'm typing this, but Browns -1 is my play.
Notable Upcoming Bets:
MLB Betting Tips:
There is one early game I'm looking at and that's the Indians -1.5 against the Twins. Corey Kluber has been on an absolute tear of late and I think he easily handles this Twins offense. While Jose Berrios is a dangerous pitcher, I think the Indians should hit him as he's been much worse in road starts this season.
My favorite game of the night has to be the Dodgers -135 over the Rockies at Coors Field. The Rockies offense has been such a letdown of late and they are slowly letting their playoff chances slip away. They are coming off a series loss to the Pirates and now face a tough Dodgers team. LA will send Ross Stripling to the mound here who is having an outstanding season and I just don't trust the Rockies to hit him. They are in a bad place right now and the Dodgers are going the opposite way. This line should probably be higher. Take the gift.
CFL Betting Tips:
The Edmonton Eskimos have one of the toughest defenses in the league so it's no surprise they are a road favorite against the BC Lions. I'm not really worried about it though as I think the Eskimos simply outclass them. They absolutely dominated BC in a home game earlier this season and have a 2-1 record in road games on the year. Edmonton -3.5 is just a better team and I think they shutdown the Lions offense here.
Follow @SBTSportBetting