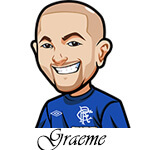 Absolutely crushing one last week in the Sanderson Farms Championship.
Going into the last day, we had the 40/1 Cameron Davis in top spot, and the 80/1 Kristoffer Ventura in 3rd spot. Both were looking good.
Alas both had poor final rounds and they both ended up tied for 6th place. Only top 5 pays in E/W betting so yeah that sucked. One more stroke by either and it would have been a nice little cash.
Frustrating to lose but nice to see I was on the right track in that tournament. Can't say that for the others – particularly the Scottish Open where I clearly misread that one and we didn't have any sort of contenders. The weather was a big factor there too of course,
The only bright side is it seems many others misread it. Langasque was one of the most popular picks according to @_Golf_Betting_ who compile a pie chart of all popular picks that week. Of those only Herbert was able to get a top 5 place. So don't worry it wasn't just me that sucked with the Scottish Open last week – others did too 🙂
Wouldn't surprise me if Langasque turns it around this week. Least he will be rested. I can't find enough data to justify backing him but that's one I'll be kicking myself if he does.
Let's get into this week. I wasn't able to get to these on Tuesday due to time constraints and I'm a bit swamped with my regular work plus there's a lot of tournaments to cover so just going to be quick little write-ups this week.
This Weeks Top Prop Bets:
BMW PGA Championship 2020 Betting Tips:
$62.50 on Sam Horsfield 45/1 E/W.Proven winner this year, decent form here, strong second round last week.
$62.50 on John Catlin 66/1 E/W. Another proven winner and not played here before but I think his play suits this course.
Shriners Hospitals Open 2020 Betting Tips:
DeChambeau is one of those real annoying ones where he ticks every bloody box to win but in the game of golf – it's near on impossible to take him at those odds. Just like Rory at his peak last year etc.
$62.50 on Doc Redman 80/1 E/W. Big drop off in odds due to the stronger field but makes him worth a play.
$62.50 on Zach Johnson 50/1 E/W. His bentgrass performances can't be ignored. Decent form. He stood out to me at Sanderson.
$62.50 on Kyle Stanley 200/1 E/W. Stand out on the metrics for me and has performed well here at times. Played decent in the 2nd round last week before missing the cut. This is one where it might make more sense for me to start factoring in top 10 bets etc for these tips. I may consider it in the future.
$62.50 on Cameron Davis 70/1 E/W. Could just be burning money here as the guy is struggling to close and may let us down again but I see enough to justify it at this price.
Other Golf Betting Tips:
No LPGA this week. It's a new course and I don't have enough data to judge it.
SAS Championship: $25 on Bernhard Langer to win @ 8/1. $30 on Jerry Kelly E/W 11/1.
Genesis Championship: $20 E/W on Seung-Hyuk Kim to win at 25/1.
How To Follow My Golf Bets: