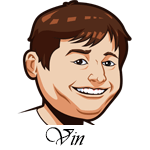 Follow @SBTSportBetting
A 4-0 record last night. Now 15-4 in the playoffs!
Wow, what a night.
Houston has been my favorite to win the World Series all season long and they really showed why in this series. The Indians had one of the best rotations in the playoffs and they made them look like nothing. Andrew Miller and Cody Allen were the kings of the playoffs two years ago and they needed both of them to get out of one inning. Wow.
The Dodgers showed that they were who I thought they were as they handled the Braves with ease. It's really awesome that the Braves made it here, but they were early on their timeline. This team has much better days ahead, but right now is all about LA. They'll face the Brewers in the next round and that series will be very interesting.
Everyone is on the Brewers right now, but I think that is an overreaction. The Rockies were the worst team in these playoffs and I can paint a picture where they win that series. The Dodgers are the richest team in the land. Should be fun.
Then we had the Yankees worst loss in postseason history. The team with more playoff appearances, more World Series appearances and more World Series championships than any team in baseball. That's kind of amazing. A lot of blame should go to Aaron Boone for this one as he did not handle his bullpen well when the game was still in hand. The rematch is today with the Yankees season on the line so let's get into that right now.
[text-blocks id="137″ slug="email"]
Boston Red Sox vs. New York Yankees Betting Tips:
Don't be fooled by a one game sample! That's my warning here. While the Red Sox absolutely dominated last night, this match-up is different and these teams are used to bouncing back from losses like that. It happens to everyone in baseball.
The Yankees send CC Sabathia to the mound for what could be his last start as a Yankee. I actually like him in this match-up as the Red Sox were a below average offense against left handed starters on the season. I don't think he'll be asked to do much beyond the first or second time through the order. The bullpen should be better today as the big guns will come out in this elimination game.
Rick Porcello goes for Boston and while he has had success against the Yankees (2.61 ERA in 13 starts against NYY as a Red Sox (Sock?)), I don't like him here. The Yankees had a 109 wRC+ against righties on the year. His 4.28 ERA/4.01 FIP doesn't blow me away and his 1.27 HR/9 rate in this park does not bode well for him. Yesterday is making people forget just how shaky this Red Sox bullpen looked in the first two games and I could see that once again rearing it's ugly head here.
I almost want to go under here, but I can't bring myself to do it. These offenses, this homer friendly ballpark; I just can't, but I won't be surprised if it happens.
I have to go with the Yankees in this one. They have the better bullpen and their offense is in a better spot. I weirdly trust their starter more as well.
Bet Yankees -115
Follow @SBTSportBetting