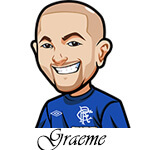 Follow @SBTSportBetting
It's September 5th, 2018 and I'll be covering this weeks golf and CFL action.
The golf has been spectacular lately with Dechambeau absolutely killing it. Just some exceptional performances from him lately. I've backed him a few times this season such as at the US Open and the Players Championship but never been able to get it right with him. Frustrating as when that happens it puts you off backing someone for a bit.
However he is in exceptional form at the moment and it's going to be itneresting seeing how he approaches this real thinking mans course. Theoretically the guy should be chilling out and saving his energy for the bigger tournaments coming up but you gotta think he wants to strike while the iron is hot and keep it going.
Anyway here's what I'm on this week:
Golf Picks for September 5th, 2018:
In the BMW Championship: I am going for:
Hideki Matsuyama to win & Top 5
It's nice to see Matsuyama in form again and he's looking good after a few issues this year. I hesitate to say he's at the top of his game but after the way he played at the end of the last tournament, I've got to back the boy to do the business here.
I mean you're getting 16/1 odds on the hottest golfer in the world at the moment. This is a different style of course. It's a real thinking mans course and it might be good for him as he could change his approach. Either way at that price it'd be silly not to back him.
All aboard the Tiger Train. No Tiger Tax this week and if the man gets his putting going on he could be exceptional here.
Historically has had success at this course and you just can't argue with the course form he has displayed here.
Patrick Cantlay to win & Top 5
This is the type of course I think he'll have fun with. He's still performing well and I'm going to back him this week as I think he can hang out with the top guys.
In the European Masters I am placing bets to win & Top 5 on the following golfers: Matt Wallace, Mike Lorenzo Vera, Mikko Ilonen, Ashley Chesters, Alexander Bjork.
CFL Week 13:
What a week last week was with the Alouettes picking up their 2nd win in a row. Pity they are on a potential momentum killing bye week.
This week I'm on:
After last weeks loss I like the best team in the East to bounce back strong against the crappy BC Lions.
Toronto looked poor last week and if they're able to pull something out of their hat this week so be it. Hamilton are hot and cold but their offense is always something tough to contend with.
Don't get this line at all. Saskatchewan are a team that look just incredible at the moment.
Honestly could see an upset here.
Follow @SBTSportBetting