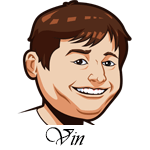 Week 14 of the NFL is in the books and last night the Eagles were able to eke out a win against the Giants. That put them in a tie with the Cowboys atop the NFC East at 6-7. In a year when the rest of the NFC playoff teams have great records, the winner of that race is likely to have a worse record than the team they host in the first round.
In college football, the final four playoff teams are now set. LSU will play Oklahoma and Ohio State faces Clemson in a battle of undefeated teams. These games don't take place til December 28th so we've got some time, but the current championship odds look like this:
LSU +120
Clemson +205
Ohio State +205
Oklahoma +1200
Of the four, I'd have to say Ohio State looks like the best play. They have been just as dominant as LSU and Clemson this season with a truly dangerous offense. Oklahoma is a -13.5 favorite in their game against LSU.
Notable Upcoming Bets:
NBA Betting Tips:
Washington Wizards at Charlotte Hornets: Washington is looking for a win here as they've lost five of their past six games. They've had a rough schedule with all of those losses coming from teams with a .500 record or better.
The Wizards aren't that bad of a team though. They have Bradley Beal, one of the most dynamic guards in the league, and a solid mix of veterans and solid prospects. I'd say, on a talent level, they are way ahead of where the Hornets are.
I think the Wizards can come out here and get the win on the road. They want it, they need it, and they should do it.
College Basketball Betting Tips:
Indiana at UConn: These are two teams looking to prove themselves and make some waves in the polls. Indiana started 8-0, but a big loss to Wisconsin set them back a bit. While the Huskies are 8-2 with losses to St. Joes and Xavier in overtime. Both of them want to win here in the Jimmy V Classic to continue their climbs up the rankings.
This is Archie Miller's third season in Indiana and the team has improved each year. They have more of Miller's recruits and are a big, physical team. They have dominated the scoring this season and should continue that here. UConn is getting better, but they are still a year away from breaking out at this level.
NHL Betting Tips:
Tampa Bay Lightning at Florida Panthers: This is probably the game of the night in any sport as two of the NHL's best offenses face off in the battle of Florida. While both of the defenses rank near the bottom of the NHL.
You know what that means, goals. The last three games between these teams hit 7 goals scored. With the game before that having a total of 9 goals and the one before that seeing 10 goals scored. With a total set at just 6.5, it's not hard to guess what I am going to pick here.