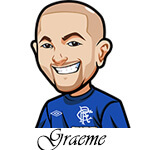 Picture Credit: Sports Illustrated
Hi all,
No golf this week that I will be backing. The Presidents Cup and QBE Shootout are going on but nothing there that I really want to bet. I'll probably bet International in the Presidents just for the hell of it. Surely has to be some value there.
Instead I will cover tonights NBA and NHL action.
Big game in the NBA with Raptors vs Clippers. Looking forward to that one.
Let's get to it:
December 11th NHL Bets:
Bruins at Capitals: This should be an interesting game. The wheels have fell off the wagon somewhat in Boston as they first lost to the Blackhawks in overtime, and then had two very rare losses in regulation. Both were thumpings too. Now they have to pick themselves up against the highest rank team in the East? Yikes.
Washington have had losses spread out this season. They know how to bounce back. However they haven't been great at it. These two teams played in November and went to OT. Bergeron is back for the Bruins. Last time they played in Washington, Bruins came away with the win.
However I just can't see past the Capitals here. They have an incredible record against the Bruins. I am taking Washington Capitals to win.
Senators at Canadiens: The Habs come in on the back of a couple solid victories. At home however it's like they don't play defense at all and just focus on the offensive plays. Senators don't have a good defense or goalie and the only way they can win is to outscore their opponents.
They'll be coming in with confidence after the win over Boston. They also put a bunch past Philly and Edmonton so this is a strong offense right now. I like this to be high scoring with both teams fighting for the win and am taking Over 6.5 Goals.
Flyers at Avalanche: Flyers have a tough set of road games coming up and losing Travis Konecny is absolutely brutal. He has a concussion and also Philippe Myers is out. Avs know all about injuries. They will be missing some players. Big game this one honestly and the Avs are 6-0-1 and on a nice little run. I'll go with the Over 6 in this one.
December 11th NBA Bets:
Celtics at Pacers: Celtics aren't the best road team and are underdogs here. I get it however when I look at the teams I see a Celtics team ready to go on a big run. They have Hayward back and I believe Smart could play tonight. Pacers meanwhile are seeing some serious struggles in their last couple of games. They're one of those teams you look at and think huh they may just be slumping. Celtics -1.5.
Clippers at Raptors: Obviously Kawhi Leonard is going to be in this game. That is going to be massive. He's going to want a win here and was rested on Monday. He'll be coming out huge here. Raptors will NOT want to lose to Kawhi and his troops so they will be up for this one as well. I like a big offensive game from both teams, and will be going with Over 219.5 Points. Can't wait for this game.