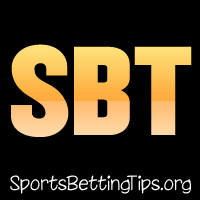 Follow @SBTSportBetting
A tough 1-2 record last night.
Our big win was the Raptors as they never dominated the entire game against the Nets. They were -13 favorites, but that was nowhere near enough as they won the game by 33. The Raptors have now won eight of their past nine games.
We were frustrated by the Pacers -5 losing outright to the Pistons. The Pistons are just one of those teams that seem to zig when we think they are going to zag and zag when we pick them to zig. They have a talented squad and should play that kind of defense more often, but that isn't always the case.
Even more frustrating were the Bucks -8 who were A.) at home, B.) against one of the worst teams in the NBA, C.) without their best player and D.) had been playing really well as of late. Add all that up and you have an outright loss. Felt like an underestimation game plus a "our guy is out so let's step it up" game combined.
Utah Jazz vs. Cleveland Cavaliers Betting Tips:
This is a great spot to take Cleveland tonight as this is the last game of a four-game homestand and they are going against the Jazz who has Rudy Gobert listed as doubtful. We've seen earlier this season how the Jazz play without Gobert and it doesn't leave a lot to be excited about. This team has some good talent, but it is really their center that makes everything fit and without him they can be a mess.
We like the way that Cleveland -8.5 has looked of late and are expecting another strong performance here tonight.
Dallas Mavericks vs. San Antonio Spurs Betting Tips:
Deja vu? We just tipped this one a few days ago and it didn't come through as the Spurs lost to the Mavericks in Kawhi Leonard's first game back this season. That actually excites us here as that is definitely a game they should've won and that is definitely a game that they heard about afterwards from their coach. They get the rematch tonight at home and I don't think they could set this line high enough to keep us away from it.
The Spurs -9 should get a measure of revenge here tonight.
Phoenix Suns vs. Minnesota Timberwolves Betting Tips:
There are a lot of stats that show how bad the Phoenix Suns have bee this year. This is a team that ranks last in Defensive Rating and 28th in Net Rating. The one that I like to look at though is Assist percentage and Assist to Turnover Ratio, in both categories they rank 29th. That shows to me that, without Devin Booker, this team is in trouble. Five straight losses bear that out.
Putting up a team that ranks so low in Defensive Rating against the Timberwolves who are currently 5th in offense rating is like putting frosting on a cupcake. I was going to eat it anyway, but now I want it even more. That's the case here as we are all over the Wolves -11.5 tonight.
Follow @SBTSportBetting