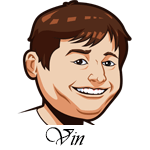 Follow @SBTSportBetting
Bowl season rolls on tonight with South Florida taking on Marshall. Over the past few years, Marshall has been one of the better bets in bowl games as the team holds a lifetime 11-3 record in bowl games. It'll be interesting to see if they can continue that run here.
South Florida was one of the team's to watch early this year as they burst out to a 7-0 start, but they stumbled down the stretch losing their final five games of the season with most of them not even being close. Marshall is in a bit better position as they won three of their last four games to end the season. This could be a tough defensive match-up and should be a nice game to check out.
Notable Upcoming Bets:
College Football Betting Tips:
I really like the way that Marshall finished the season and I have a lot more faith in them than I have in South Florida right now. Not only have they lost five straight, but their offense has really stumbled in most of those as they've scored seventeen points or less in three of the past four. Their defense is good and the under is intriguing, but I can't go against Marshall here and their awesome bowl record.
NBA Betting Tips:
This is a tough one for the Rockets tonight. Tonight is their fifth game in eight days, their third in four and the second half of a back-to-back where they lost time due to move time zones. Not a great time for them. They play the Heat tonight and Miami is a hard team to put your finger on. They are 13-16 and without Goran Dragic for the next two months. That said, this travel schedule is awful and the Rockets are just 6-10 against the spread in road games. I think the Heat are a great play tonight getting points at home.
The Clippers and Mavericks play tonight and I don't know quite what to make of it. The Clippers are at home, but they've lost four straight and 3-7 over the past ten. The Mavs have a really bad road record on the year so something has to give here. I think I'll skip this one.
College Basketball Betting Tips:
How good are the Duke Blue Devils? They are playing 10-0 Texas Tech tonight and they are still favored by ten points. Their last game out they were a -30 favorite and won by 50. This team is just something special and I really like them to dominate at home tonight.
NHL Betting Tips:
The Dallas Stars are an awesome team at home and they face the Blackhawks tonight. Chicago is not in a great spot as Corey Crawford just got a concussion which could keep him out for some time. His last concussion took him out for a full season and he'll need some time here. This Hawks team hasn't done the best at stopping goals as is this season and the Stars look great here.
Follow @SBTSportBetting