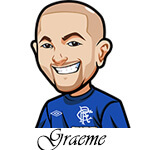 Follow @SBTSportBetting
Unlucky with backing the Schalke vs Leverkusen draw. Leverkusen were up 2-0 and Schalke scored before the break. They then had a good second half but just couldn't find the equalizer. Lot of silly shots as they racked up 11 off target shots in total.
There's not much football going on Thursday so I am going to look ahead to the weekend. With my trip to Scotland it's possible I will miss a couple of days so have to try and handle the weekend games just now.
Today we will tackle Saturdays Serie A Games:
Treble of the Day:
Lazio to Win: Lazio are 5th in Serie A after a bad run of form. They haven't won in their last 5 games and were beaten 1-0 by Atalanta last time out. However I've got to think they are able to turn things around as they host Cagliari. They're not too bad at home and this will be a good game for them to get going as they challenge for a Champions League spot again.
Napoli -1: Napoli are one of the most in form teams in Serie A besides Juve. They're killing it and SPAL will have zero chance of standing in their way. Anything but a Napoli thumping would be an upset. SPAL at least have managed to string together three games without losses – and it's actually 4 draws out of 5 with a loss to Juve – but I've gotta think Napoli keep their sensational form going here as they keep the heat on Juventus. Juventus play Roma later and those are always tight games so I like a good victory here from Napoli.
(Odds on this page are correct as of 2018/12/19 4:41:40 PM EST but are subject to change)

Juventus vs Roma Betting Tips:
Juve are currently top of Serie A on 46 points and Roma are chasing. This should be a good game but these games tend to go under more often than over in terms of goals, regardless of the offensive power of both teams.
Juventus have an excellent defense and the majority of their home games go under as well. They don't concede a lot. Roma aren't too shabby offensively and have been leaking in the goals lately but I just think we see another tight affair.
You never know with these sort of battles though and Romas defense is a slight concern at the moment so we'll go with just a very small bet on this one.
(Odds on this page are correct as of 2018/12/19 4:41:40 PM EST but are subject to change)

Follow @SBTSportBetting