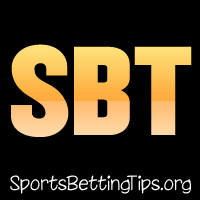 Follow @SBTSportBetting
A 1-1 record last night.
The Rockets -12.5 were the big disappointment for us. They had some pretty huge leads early and James Harden went for 51 points in this one, but they just weren't able to hold the big leads and ended up losing the game outright. This was a real scrappy win for the Clippers and maybe James Harden scoring 51 isn't necessarily a good thing for this Rockets team.
Our win was the Pelicans -5.5 over the Magic. This one was never even close as the Pelicans just ran all over them. The Pelicans won by 14 over Orlando which made us very happy.
Christmas week continues tonight with a full slate of games so let's get right into it.
Philadelphia 76ers vs. Toronto Raptors Betting Tips:
Our system is really loving the Raptors tonight and what's not to love? The Sixers have Joel Embiid listed as questionable for this one and we've seen how different of a team they are without him. The Raptors have also won five straight and 11 of their past twelve games. Beyond that, the Raptors are third in the entire NBA in Net Rating which makes them the best in the East. We should be going for the Raptors every night.
Tonight we do. Raptors -9 is our top play of the day.
Orlando Magic vs. Washington Wizards Betting Tips:
This might seem like going to the well once again, but if something works you stick with it. The Magic are deeply troubled and have lost seven straight. Aaron Gordon and Evan Fournier are still listed as doubtful for them and it's hard to find a reason to think the Magic have a chance here.
Washington dropped a disappointing game to the Nets last night, but that should only fuel the fire. They can't lose to non-playoff teams two nights in a row if they think they are going to compete atop the Eastern Conference. John Wall is getting better every day and we think this team should start getting better. We expect them to come out strong in this one and the play is Wizards -11.5.
Chicago Bulls vs. Boston Celtics Betting Tips:
The Bulls are so hot right now. They've won seven of their past eight games and have won against the spread in nine straight. This all coincides with the return of Nikola Mirotic and the evolution of some of Chicago's young players. This is starting to feel like a last year's Miami Heat situation.
The Celtics have been going the other way since the end of their big winning streak. In the month of December they have just a 7-5 record with a 0.3 Net Rating. That's not great and the Bulls have a 4.1 Net Rating over the same period.
This just feels like the line makers are basing this game on old information. The Bulls were terrible and the Celtics were great, but they aren't those same teams right now. The Bulls +7.5 are a great play tonight as they should make this one close and could probably win it outright.
Follow @SBTSportBetting