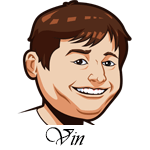 Follow @SBTSportBetting
There are a couple of really fun bowl games on the slate today that we will be keeping a close eye on.
The first is the Camping World Bowl with Virginia Tech facing off with Oklahoma State. This is a real oil and water situation and we are excited to see how it all plays out. Virginia Tech had an outstanding defense this year, allowing just 13.5 points per game. On the opposite side, you have the Oklahoma State offense that scored over 46 points per game this year. Something's got to give in this one.
Michigan State versus Washington State in the Holiday Bowl is another one we are looking forward to. The Washington State offense is basically pass, pass, then pass some more and if that doesn't work they pass. They face a Michigan State team that isn't used to that sort of play. The Big Ten is full of teams that pound the run and it'll be interesting to see how these teams fare against each other.
Notable Upcoming Bets:
College Football Betting Tips:
One of the best things about Washington State is Luke Falk's ability to read a defense and decide what best to do at the line. The Michigan State defense is tough, but if he can read it well and find the passing lanes this could be a tough night for the Spartans. The WSU defense is also the best it has ever been under Mike Leach and this feels like the kind of game that the Cougars win. Washington State +2.5 is the play.
In Oklahoma State's three losses this year they allowed 44, 62 and 45. That's the kind of points that you need to put up to beat this team and I have a hard time seeing Virginia Tech doing that as they only managed 28 per game in the regular season. This feels like a blowout and Oklahoma State -5.5 should roll.
NBA Betting Tips:
Two of the best young offensive teams in the NBA face off tonight and both of them are bringing really bad defenses with them. Those two teams are the Bucks and the Timberwolves and neither one of them gives me a lot of encouragement that they will be able to stop the other. This is a great place for an over 214 bet. They will score because that's what they do and this one should be a 114-110 kind of game.
The Magic have had a terrible year and tonight are going for their 10th straight loss. This team started hot, but injuries and threes no longer going in have dropped them big time. They should be without Vucevic, Gordon and Fournier yet again tonight so there isn't a lot of reason to think that streak will end here. They face a tough Pistons team who have been really tough this year. I can think of a million reasons to pick the Pistons -4.5 in this one and maybe one to pick the Magic. Sometimes it's just that simple.
Follow @SBTSportBetting