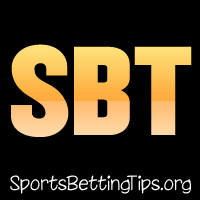 Follow @SBTSportBetting
An 0-2 record last night.
The Clippers and Lakers played the game that I mostly expected them to, but they finished just four points short of the over. The lack of shooting on the Lakers really showed here as they just didn't have the firepower to keep up.
Our other loss wasn't even close as the Raptors lost big to the Magic. Well, that's not exactly true. The Raps came out hot, hitting eight of their first twelve shots, and having a 19-9 lead. Then the Magic just went wild going on a 51-16 run. Sometimes in this league teams on losing streaks just go off and sometimes in this league teams have bad shooting nights.
This was both of those at the same time and it was ugly.
Full slate tonight, let's take a look at the games.
Golden State Warriors vs. Portland Trail Blazers: The Blazers are coming off a win in Golden State and it is really hard to beat the same team twice in a row. That said, teh Warriors are playing some strange basketball of late and the -4.5 on the road seems like a lot given the recent play. I think the Warriors will win, but just not willing to go against Portland.
Utah Jazz vs. New York Knicks: The Jazz are finally getting a nice homestand after being brutalized by the schedule. This feels like an easy win with the Knicks likely without Tim Hardaway Jr. The line is -12.5 though and that is a lot to ask of this Jazz team.
Houston Rockets vs. New Orleans Pelicans: I've been burned a couple times now going against the Rockets with Chris Paul. They shouldn't be seemingly better, but they have been. New Orleans has their own flaws, but they are at home here and I think they can dominate the boards. Not going against Harden though.
Denver Nuggets vs. Phoenix Suns Betting Tips:
Denver has had a ton of injuries of late that are threatening to knock them off the top of the West, but this is still a very good team. Nikola Jokic is the man and I really like his match-up in this game. DeAndre Ayton won't know quite what to do with him and I think he can really dominate both ends of the floor here.
I try to say something nice about both teams in these write-ups, but the Suns make it hard. They are 5-5 over their past ten, but are just 5-16 against conference opponents and 5-12. There isn't a lot to work with here.
This is the top seed in the West against the #15 team in the West. For some reason, the line is only -5. That seems terribly low to me and I expect the Nuggets to roll here.
https://www.Bovada.lvBet Nuggets -5
Follow @SBTSportBetting