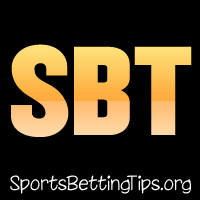 Follow @SBTSportBetting
A tough 1-3 night last night.
We had the Thunder -8.5 and they ended up losing 95-97. This was a crazy one as the Bucks outscored them 38-18 in the first quarter and then the Thunder won every single quarter after that. The defense played great, obviously, only allowing 59 points in the final three quarters but that hole they dug was simply too deep.
It was a similar story with the Pelicans -6.5 against the Mavericks at home. Dallas won the first quarter 36-21 and the Pellys were never able to overcome that early deficit. Not sure what it is about our picks and slow starts yesterday.
I've been staring at the Golden State -10.5 loss against Charlotte and trying to figure out what happened, but I just can't seem too. Dwight Howard had a huge game, but that doesn't seem like enough. The Warriors just didn't have it here with 17 turnovers and only eight total threes made.
Thankfully, we had the Bulls -2 who continued their winning ways with a 12 point win over Indiana.
Let's wipe that day away and get on to better days starting with tonight's picks.
New York Knicks vs. New Orleans Pelicans Betting Tips:
We are going back to New Orleans after last night's loss as that should only invigorate them to play better tonight. They came out slow last night, but they won't make that same mistake here against the Knicks.
New York has had a great season thus far, but much of it has been built off a really strong home record. They haven't done much on the road this year and a motivated Pelicans team won't do much to help that.
We like the Pelicans -5.5 to get back on track here tonight against New York.
Miami Heat vs. Orlando Magic Betting Tips:
We haven't talked much about Miami this year because there isn't much to talk about. They are a team with a lot of interesting players, but no superstars. They are well coached so they play hard and smart, but there isn't that one guy or couple of guys that scare or excite you. They are simply a solid basketball team.
There is a chance that the Magic finally get back Fournier and Gordon for this one, but that could create a whole new set of problems for them. Getting them back into the rotation, re-learning how to play together and working them out of that injury are all concerns here.
Brighter days are ahead for the Magic, but we don't think that starts tonight. The Heat -1.5 should be able to grab the win here tonight against the troubled Orlando Magic.
Cleveland Cavaliers vs. Utah Jazz Betting Tips:
The Cavaliers have lost the first two games of a three game road trip and need a win here to salvage the trip. The Jazz are just 2-10 over their past twelve games and are still without Rudy Gobert. This is a game that the Cavs win. This is a game that the Cavs need to win. This is a game that I am taking the Cavs -3.5.
Follow @SBTSportBetting