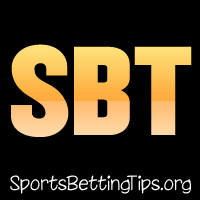 Follow @SBTSportBetting
An 0-1 record last night.
Sometimes you get so caught up in the numbers you forget to think of the real world. Yesterday I took the Jazz over the Heat in Miami. The ratings I look at, the numbers I crunch for every game, and the trends all pointed to the Jazz taking this one. If this game was played at a neutral site, I'd do it all over again. The thing is, it didn't take place at a neutral site. It took place in Miami and the Jazz were off the night before.
There's a pretty solid theory that betting Miami in these games is very profitable. I know in our brains we think "Utah" and don't think "partying", but these guys aren't from Utah. They play in Utah. There is a good chance they enjoyed themselves on Saturday night. That said, this ended up being a tie game with three seconds left and it just broke the wrong way against us.
Denver Nuggets vs. Toronto Raptors: My system thinks the Nuggets are getting about three too many points here. The Raps should be favored, but -6.5 is a lot. Toronto is really good at home though and one three pointer isn't enough to swing me on this one.
Washington Wizards vs. New York Knicks: The Wizards have been my kryptonite this season and this game is a good example of why. They are -2 favorites on the road against the lowly Knicks while my system they should actually be underdogs. From a talent perspective, it's clearly the Wizards as the Knicks don't have a ton going right now. Their play has been so uneven though that my system likes New York. I am just going to skip it.
Atlanta Hawks vs. Golden State Warriors Betting Tips:
This one is pretty simple. The Warriors got Stephen Curry back over the weekend and I said a lot of nice things about them. He's a big part of what this team is and having him back is huge for them. They lose their first game with him back against the Pistons thanks to a poor three-point shooting night, but the Hawks are most definitely not the Pistons.
Atlanta is deep in a rebuild and going for another top pick this year. Trae Young has upside, but he's been one of the worst defensive players in the entire league this year and his three-point shooting is really struggling. Guess who he'll likely be guarding? Steph Curry! That is so exciting that I can barely contain myself. I am expecting a much better shooting night for Golden State overall, but Steph should really be cooking in this one.
The line is high, but compared to some of the lines we've seen this year it is actually a good one. Typically, a game like this would be in the teens, -13 or -14, but this one is only -10. That's a great deal for what I would consider the very best team in the league against the very worst. Don't overthink this one, lay the points.
https://www.Bovada.lvBet Warriors -10
Follow @SBTSportBetting