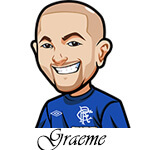 Follow @SBTSportBetting
After some fun midweek EPL action, the English Premier league returns this weekend. Our double of Liverpool and Spurs to win came in although our SPL tips didnt. St Mirren managed to get 2 shots on target and scored both of them against Hibs. Good stuff.
I'm hoping to get into a better routine with the tips over the next couple of months. I had a good routine going for a bit where I'd write up SPL Tips one day, EPL the next etc but I've sort of lost that continuity.
I'd like to get stuff going where I have specific days to do tips on specific leagues so I cam able to cover the weekends Serie A action as well etc.
I did only launch the site during the World Cup though so still getting into a rhythm. I mean along with soccer tips each day I've got NHL tips, NBA tips, every Tuesday CFL tips and golf tips, NFL tips each week, WWE tips once or twice a month blah blah blah. Can be a fair bit of work ha and I'm not in a perfect routine yet.
Anyway thanks to everyone that sticks with me and reads every day (when I post tips) and doesn't yell at me when I miss a day! I'm getting there. And hopefully I'll start doing more lower league tips etc – sometimes I'm crushed for time and EPL or something is easy to write up because I'm that much more aware of it.
Let's get on with the EPL Tips:
Bournemouth vs Liverpool Betting Tips:
Bournemouth are such an interesting team. Currently joint 6th in the EPL and they have a very good offense. If they could tighten up on defense they could actually be a contender.
They seem to struggle against the better sides with losses recently to Man City, Arsenal and Manchester Utd. They've managed to keep most of those tight though and actually looked like they could pull off an upset over City for a little bit.
They got a confidence boosting and much needed win over Huddersfield although it wasn't the best performance. Now they host Liverpool who are still chasing down City.
Honestly I feel the odds are too high in regard to Bouremouth and are VERY tempted to take Bournemouth or Draw. 2.37 odds for that. But Klopp rested a couple of guys in midweek most likely in preparation for this game. And man it is hard to bet against Liverpool.
One thing I am wary of is we have Liverpools defense really step up when it matters. In saying that, Bournemouths abilty to score against the top opponents is something I've got to trust going into this one.
(Odds on this page are correct as of 2018/12/07 3:56:04 PM EST but are subject to change)

Double of the Day:
Arsenal To Win: Arsenal came off a very impressive few day span with 4 points out of games against Man Utd and Spurs. It's put them in a solid position to keep the race on for a European place. They're playing a Huddersfield team who really will be tired after midweek. They gave it their all against Bournemouth. I think Arsenal can take this one but wary of the handicap.
Man Utd to Win: I mean if there is one team I hate to back it is Man Utd. But at Old Trafford? Against bottom of the league Fulham? Who have no defence? I've got to think we see a victory for United to break their run. Tempted with win to nil or something but man, United really concern me. Hate betting them as it means I have to watch their game that much more closely ha.
(Odds on this page are correct as of 2018/12/07 3:56:04 PM EST but are subject to change)
Follow @SBTSportBetting