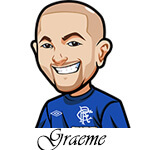 Follow @SBTSportBetting
Sorry guys it was a busy few days for me last week and I just wasn't able to get to the soccer tips for the weekend.
It was a good 3-1 outing in the Champions League this week. Our only loss was Munich -1.5 which didn't come in when Parolo netted for Lazio in the 82nd minute.
For Tuesday, March 23rd there is a bunch of English lower league games taking place and I thought I would do some primarily stats based picks on all the games on England League One – or at least look at them anyway.
I've been loosely paying attention to those leagues this year but not as much as years past.
Let's see what we got:
English League One Bets:
Blackpool vs Peterborough:
Blackpool come into this one on a rocking win streak. 9 matches without defeat, 11 matches at home without defeat. However they are in a weird spot right now where they have racked up 4 draws in a row at home.
Peterborough are one of the better away sides. When these two last played Blackpool got the 2-1 win. Peterborough are 2nd with Blackpool in the Top 10 and chasing a playoff spot.
Blackpool will be missing Ballard which is tough for them. It's hard to see Blackpool losing at home despite the quality of their opponents.
I was going to back the draw here but the more I look at it I think Peterborough might sneak a win for some reason. No bet though as I can't back against Blackpool at home.
A good old fashioned relegation battle. Bristol Rovers are stumbling a bit right now. Swindon beat Bristol at home earlier in the season. Bristol Rovers will get Joe Day back which should make them happy. I liked the changes Swindon implemented in their last game and I think that will give them confidence – was a good little squad shake up. 1u on Swindon to win at 3.60 odds.
Burton Albion vs Shrewsbury:
A nice undefeated run for Burton came to an end with a 2-1 loss to MK Dons. Both teams are above the relegation zone but not safe yet. Burton you have to wonder if they will struggle or bounce back after losing that run. Last game between these two was a draw. A lot of Burtons success has been Jimmy Floyd Hasselbaink obviously.
I would like to see Burton get the win but this is an even game and I will go with 0.5u on the draw at 3.30 odds.
Northampton vs Oxford:
Oxford are the better side but just don't have the confidence in them here. No bet.
Follow @SBTSportBetting