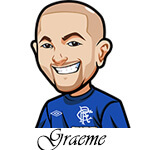 Follow @SBTSportBetting


[Get Exclusive Tips on our Patreon, Ad-Free
]
It was a losing week with the soccer bets last week, as we went 1-2 with the main bets. Neither 0.5u bet came in either.
Quick look back – I always like to stick with talking about one sport in that post BTW, just because some people only read the soccer bets and not the golf / f1 bets, or vice versa etc.
Villa Over 1.5 Goals: Holy moly was this a tight one. It literally came in at the 98th minute with a penalty, and also that 87th minute goal by Duran. Fairly lucky here as Villas xG by the 80th minute was 0.86. Nice to be on the right side of some good luck.
Spurs -1.5: Spurs absolutely dominated them but it was a similar result goals wise. They only scored in the 98th and 100th minutes to win 2-1, not enough for us. That was generally variance as by the 90th minute they had 1.72 xG . Think it might have been a case of them being a bit rusty, and Richarlison not being fully fit. They will be a team to watch post international breaks and possibly avoid.
Dundee Utd -1.5: Frustrating one that because Utd got the early goal and that usually means dominance. Just didn't come in, and it was just an off day for Dundee Utd.
1/2u bets were Motherwell/St Mirren draw. St Mirren pipped them 1-0 there in a tight one that was close to coming in. Dundee put up a woeful performance against Celtic so had no chance at BTTS. Frustrating when a team does that against the old firm especially with how shaky both teams defenses are.
Let's look at this weekends football:
Palace Over 1.5 Goals @ 2.00 Both teams solid enough at hitting the back of the net this season so far. Neither team great defensively and both have injury concerns. I was actually leaning towards BTTS here at 1.80, however looking at it I have concerns about Fulham scoring. Their xGA is really high and that isn't just due to Arsenal and City. Palace should be able to take their chances in this match.
0.5u – Spurs or Draw @ 2.15 Could have my Ange glasses on here but I think they have what it takes to surprise Arsenal. Arsenal also had the European game which can affect things. Spurs are still gettling settled with the tactics, but it's the type of thing that can upset a team and I think ARsenal will struggle with the way they play.
Nothing else jumping out at me. Feel like Motherwell could give us a good go in the SPL, and Celtic vs Livingston might be a tight affair but nothing confident enough to go on.
Hoping to expand this with Serie A in the future just waiting for the season to progress a bit and also focus on getting caught up on it more.
Follow @SBTSportBetting