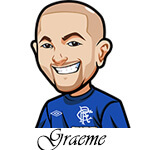 Follow @SBTSportBetting


[Get Exclusive Tips on our Patreon, Ad-Free
]
It was an excellent start to the NFL Tips.
I was able to go 4-0 on player props in my first week of NFL Betting.
I went 1-1 on game spreads and 0-1 on team props.
I'm so conflicted on spreads. During the Lions game where I had Lions -4.5, I was furious at myself for betting the spread especially considering the LaPorta prop came in. But then I watched the Dolphins Patriots game and just enjoyed how easy that one was.
So we'll see how it goes. I would like to stick with player props exclusively but it's hard sometimes.
Let's run through the Sunday games.
Falcons @ Lions:
Think the Lions pass rush will be a big factor and that should help them cover the spread. Going to back Laporta again at Over 37.5 Receiving Yards. He makes the most of his receptions and looks to be a decent matchup for TEs. He's delivered enough this year they should look to him.
Bills @ Commanders:
Should be a good game for Allen here. Washington will be a nice matchup for him. He's gonna throw and throw. The one concern is this game looks like it will be slow paced. I expect we see Diggs used a lot here and he might go over the receiving yards, but I'm gonna go with Allen over 251.5 passing yards instead. Just feel more comfortable with that as Diggs could get a lot of attention. Davis is also very tempting.
Broncos @ Dolphins:
Too many question marks for this game but it could be a real interesting one. I could see Wilson having a big game. This has the potential to be a banger and I feel the over 47 is a tad low. But with Waddle out – eh.
Texans @ Jaguars:
This should be a nice fast paced game and I am going with Nico Collins Over 53.5 receiving yards. This might actually not be too bad a game for Stroud if his OL can just keep the pressure off him. But it's a nice low line, and so far Collins looks to be very good against the zone.
Colts @ Ravens:
Nothing for this one.
Chargers @ Vikings:
Not really feeling anything for this one.
Patriots @ Jets:
I'm iffy about anything involving my Pats. Jets I still think it's hard to call. Pats D hasn't looked too great yet. To be honest, I lean the Jets to cover and actually win here.
Saints @ Packers:
Titans @ Browns:
This should be a good test for Tannehill as the Browns D looks solid. Also curious to see if Watson can take advantage of the weak Titans pass D. Feel like this is a D where Henry can be used well against. Bit concerned about him missing practise, and if they use Spears more. I went into this looking at Henry, but I'm going to go with Spears Over 21.5. Like I said, Browns D looks like a good one to run against and all it can take is one explosive run from Spears to get it here.
Going with a second play in this game – play only on Patreon.
Panthers @ Seahawks:
Oh man good ol Andy Dalton. I wouldn't underrestimate him to be honest. He can step in and do the job. Was nice to see Geno playing better last week. Carolina offense is a big question mark for me. Nothing I am liking here too much.
Bears @ Chiefs:
Bears are quite a mess at the moment and all of that drama concerns me. You would think the Chiefs just go to town on them but man they sometimes just don't turn up. Passing on this one especially not knowing how much they will use Kelce.
Cowboys @ Cardinals:
This feels like a game the Cowboys should destroy in but I am still not buying their offense. Don't feel too good about anything here. Ertz might have a decent game but it's iffy.
Steelers @ Raiders:
This is a big game for Pickett where he really needs to step up. But will he is the question. Looking through this one, nothing jumps out at me.
Follow @SBTSportBetting