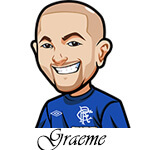 Follow @SBTSportBetting


[Get Exclusive Tips on our Patreon, Ad-Free
]
Welcome to your weekly EPL Bets post.
I think there's a good chance in the future I end up just forwarding this site to my other site, Vin & Graemes Betting Tips.
I enjoyed this site a lot and had fun running it for years and doing daily betting tips, picking random leagues to handicap etc and studying the data.
I particular enjoyed covering every game of the Euros, World Cup and Womens World Cup.
But COVID hit and killed off football worldwide and it threw me out of that regular routine. Now it's back but I just can't bring myself to get into all those other leagues again. Especially when you go to look it up and it's "oh this team is missing 3 players due to COVID protocols" etc. Makes it hard to trust any data as well.
It also really affected the site. The site was doing great traffic numbers every month then March 2020 hit and it killed the growth off. Even with me covering everything in the Euros I didn't get back to those numbers.
So anyway just a heads up I will be covering EPL bets here the next few weeks, then the site and betting tips will be moved to Vin & Graemes Betting Tips. Not the worst thing – I'm more motivated to write on there etc and so hopefully it will get me back covering more than just the EPL.
Not sure when it will happen but the mailing list will be moved over as well so you'll get a different e-mail one day and that will be when it has happened and I will mention that then.
Thanks to everyone who has followed the site and commented over the past few years. I've ran this site since 2018 and it's been a lot of fun and helped me become better at betting on football etc as well.
Let's get to the EPL Bets:
Leicester vs Arsenal:
Arsenal duly delivered like I expected last week but this is a bigger test. Arsenals away form hasn't been great either this season while Leicester have just found their form it looks like.
Happy to back the draw on this one. 1u at 3.50 odds. Wouldn't surprise me if Arsenal pull off a sneaky wee win here honestly but the odds don't justify it.
Burnley vs Brentford:
Both teams come stumbling in. Burnley have yet to win this season while Brentford are unbeaten away. Brentford had two tough losses at home.
I actually think Brentford will enjoy a change of scenery – even if it is freaking in Burnley – and will pull off the win here. EXCEPT their injury list. 8 first teamers battling injury. This is a big no play for me.
Liverpool vs Brighton:
Fresh off their absolute demolition of Man Utd. What a result that was. Liverpool now host Brighton who are unbeaten on the road.
They have some injuries but have the depth. I backed them to win to nil last week and that was a nice win but I hate that bet as football is a long game. Handicap is nothing here so no bet for me.
Man City vs Crystal Palace:
Palace come in riding a 4 game unbeaten streak – albeit all draws. They have managed to score in every one of those games. Their away record is a bit tatty but you have to realize they have played quality teams.
It's not much value but this one I think I will go with City win to nil at 1.72 odds for 1u.
Newcastle vs Chelsea:
Was disappointed in that Newcastle vs Palace game last week. Expected a lot of goals. The Chelsea machine comes rolling to town.
I'm going to throw Chelsea into a treble with Man City and Liverpool. 1u on that at 1.90 odds. Not a fan of trebles but it seems a good spot.
Watford vs Southampton:
I mean with it being Southampton surely 1u on the draw at 3.30 has value.
Spurs vs Man Utd:
Spurs underdogs here. Not a team you can really trust. Can Utd bounce back?
This is one I flip flop on. I feel like United can bounce back. Last two seasons not a lot of data to go in in terms of that but they didn't seem like a big bounce back team. Would get the draw often following a loss.
I feel there is value on Spurs but too conflicted here. No bet.
Follow @SBTSportBetting