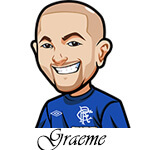 Follow @SBTSportBetting
Hi all,
Sorry for no tips the last couple of days. One of my friends was visiting briefly from Turkey, and we went out for lunch on Wednesday. It ended up being one of those very long and very liquid lunches and I came home Wednesday night in no state to do tips! Thursday I was the same – one of those days where you just lay on the couch with sports on all day while wishing for the sweet release of death.
Two 1-1 days for a slight loss recently. On the 21st we lost our small value bet of Ponte Preta to win, but were able to snag a nice double at 2.47 odds in the Brazilian Serie B which was nice.
We hit the Over 2.5 goals in Aston Villa vs Brentford but then unfortunately lost the Sao Paulo bet. Was a surprisingly competitive game from Parana there and was disappointing overall from Sao Paulo.
Quick note I'm off to the cottage for a week beginning tomorrow. Not sure how that will impact the tips – very possible I'll have a day off every now and again. In saying that, last time I was at the cottage I was able to watch 3-4 World Cup games per day AND provide corresponding tips immediately following. So should hopefully be okay.
Let's get on with the tips for this weekend:
Wolves vs Man City Betting Tips:
Wolves go into this on the back of a draw against 10 man Everton and a loss against Leicester. It's not the best start for them and you have to expect this one to not go their way either.
City look like they're just following on from last season and are crushing everyone. They've lost De Bruyne but that hasn't seemed to affect them.
One thing Guardiola seems to be concerned about this season is complacency and not to get complacent. While I'm sure it'll happen – it's only natural – this early in the season I'd like to think it won't.
Going to take City on the handicap based on their excellent record away last season and how many they won by 2 or more.
(Odds on this page are correct as of 2018/08/24 2:31:21 PM EST but are subject to change)

Bournemouth vs Everton Betting Tips:
Everton look like one of those teams who will be good to back for high scoring games. They've got a very fast attack but look leaky in defense.
A lot of that will be opponent dependent but Bournemouth already scored twice against Cardiff and twice against West Ham so you've got to expect them to be confident on the goalscoring front.
(Odds on this page are correct as of 2018/08/24 2:31:21 PM EST but are subject to change)
Follow @SBTSportBetting