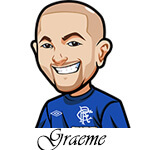 Follow @SBTSportBetting
The English Premier League is back this weekend and I can't wait.
Sure it won't be too long before we see City at the top and dominant and things are boring. But for now there's all the levels of excitement as you look at the teams and think – hey, who knows.
Arsenal are one team I'm looking forward to seeing now that the Wenger era is over with. It's going to be a fresh new perspective and look for that team and I hope they do something special. I think they might be the team I go in Football Manager 2019.
I thought for this weekend I'll run through each game and give my opinions on it and some betting tips so let's get to it.
Newcastle to beat Tottenham – 3.90 odds
Could history repeat itself? Benitez will hope so as the last time Newcastle won an opening fixture was in 2012/2013. That was at this very stadium against Spurs.
Newcastle have almost evreyone fit and have made a couple of good new signings. There's a buzz around the city and I think they're going to be motivated. Spurs meanwhile are missing a lot of players who participated in the Wordl Cup and aren't fit yet, and had no new signings at all.
I think Spurs will turn up flat and be there for the taking in a surprise result.
Bournemouth to beat Cardiff – 1.90 odds
Bournemouth had an excellent season last year and it looks like they have improved during the off season. The signing of Lerma in particular is a good one.
I think Cardiff are going to have a lot of struggles and this is one where Bournemouthw ill come out strong.
Fulham to win – Draw No Bet at 1.66
Nice to see Fulham back in the EPL and this is a good match for them. Hodgson has to be respected for what he did with Palace last season and I think he'll be happy with just a point here hence the draw no bet. Tactically he may know how to shut down Fulham.
I just don't know if they have what it takes here and while Fulham had a struggle in pre season they played a lot of better sides. Their home performances were excellent last year too and I think they can do the business. At worse I see a draw.
Huddersfield +1.5 vs Chelsea – Add it to a Double
I see this one being a tight one – Chelsea offensively don't have the firepower for this game so I think they may struggle to score goals. They'd be happy at 1-0. The odds are crap so take Huddersfield +1.5 and add them to a double with another pick.
Watford vs Brighton Under 2.5 Goals at 1.75 odds
Lot of players missing from both sides and I think both teams will be happy with a point. 0-0 or 1-1 or a tight 1-0 seems be the only way this one will go.
Wolves/Everton Over 2.5 goals at 2.05
Great price for this one and I am all over it. Think this one has to go over 2.5 it should be a high scoring affair in my opinion.
Liverpool look excellent this season and they have one of the best offenses in the league. I think they can handle West Ham no problem.
Man City to beat Arsenal at 2.00 odds
I mean just have to go with that don't you? City are missing a few players but they have an incredible squad and will be more organized while Arsenal will still be dysfunctional. Honestly hope Arsenal sneak a W but can't see it.
Follow @SBTSportBetting