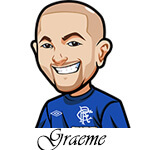 Follow @SBTSportBetting
An interesting weekend of English Premier League action is upon us.
The game many will be interested in will be West Ham United vs Tottenham Hotspur. Of course Mourinho probably won't have had too much impact early on. Then again with how fast the turnaround was – maybe he will!
A heads up that I am away for the weekend. I should still be able to do tips and I've got some partially written – just need a little fine touch on them – and so ideally I won't miss any days. If I do just assume I am laying down drunk in a gutter somewhere.
Anyway I think you've got to throw something on Spurs in that match. 1.75 isn't too bad and with the change of manager it will probably help.
Just can't personally advise it though.
Let's look at the other games taking place on Saturday in the EPL:
Bournemouth vs Wolves Betting Tips:
An interesting match-up.
Bournemouth are currently 9th in the EPL with Wolves in 8th place. If you go by expected points, Wolves are where they belong while Bournemouth have had a little bit of luck. Wolves are actually an excellent away team despite their 1-4-1 record and deserve at least one more win there in my opinion.
However Wolves seem quite happy to get that lone point. They come into this one on the back of a 7 game unbeaten streak. Last time they lost was against the dynamic attack of Chelsea when they lost 5-2 at home.
Bournemouth just had a 3 game run without a defeat stopped with a 2-1 loss away to Newcastle.
It's hard to see Bournemouth winning as Wolves are excellent. But I don't know if Wolves have it in them to get the win either.
(Odds on this page are correct as of 2019/11/21 12:25:07 PM EST but are subject to change)
Brighton vs Leicester Betting Tips:
I think there is just enough value here on Leicester. I'd set them as favourites while the bookies have them at 2.00.
They come into this one on the back of four impressive wins. They've conceded no goals in their last 3 games. Their defense is beastly. And of course they have Jamie Vardy up front to get the goals.
Brighton have been decent lately though with some solid wins at home over Norwich, Everton and Spurs. Can't sleep on them.
I rate Brendan Rodgers very highly however, and Leicester are an excellent performing home team. Their defense is incredible and Brighton already struggle to score with barely over 1 goal a match on average.
Leicester meanwhile aren't getting the credit they deserve. They are 2nd place and 100% fully deserve to be. I'd rank them right up there with Liverpool the way they are playing. I liked that they proved they could bounce back when down too like in that Burnley game.
(Odds on this page are correct as of 2019/11/21 12:25:07 PM EST but are subject to change)

Follow @SBTSportBetting