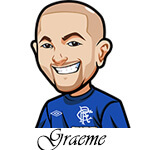 Follow @SBTSportBetting


[Get Exclusive Tips on our Patreon, Ad-Free
]
Well yesterdays EPL got off to a disappointing start, with BTTS not coming in on that Everton vs Villa game.
It was a rough first half for Everton offensively but they got going in the second half, and were extremely unlucky not to get a goal.
I'm writing these while watching the other games. Bloody drone interrupting the Brentford vs Wolves game. Amazing stuff.
Let's cover Sundays EPL & NFL:
Arsenal vs Burnley:
Arsenal had a good running win cut short at home to Man City. That was only their 2nd home loss this season, and you have to expect they will bounce back agfainst Burnley.
Arsenal do have some issues in midfield of course with Partey, Xhaka and Elneny all unavailable. I don't expect Aubameyang to play either.
Burnley do have COVID issues though and I expect Arsenal to bounce back strong. It's close to whether Burnley can score on the road or not as they have an okay record at that – 0.8 on average. But with all the clean sheets prior to that City game, I like Arsenal -1.5 and will take that for 1.90 for 1u.
Crystal Palace vs Liverpool:
Palace aren't too shabby at home. Liverpool come in off the back of three tough road results but Palace are slightly below Chelsea, Leicester and Spurs in the skill level!
Liverpool of course without Salah and Mane but that doesn't really affect things. Palace have an impressive scoring record and I'm going to go with BTTs at 1.75 for 1u.
Bet Horse Racing - +£21,565.98 profit on £25/pt staking. Click for more details.
(Advertisement but we have tested it out and have been quite impressed with it)
Leicester vs Brighton:
Leicester are very inconsistent at the moment although it's been a tough schedule. They are okay at home. Brighton are draw specialists away.
Leicester have to be gutted about the way that Spurs game went. They're missing so many players too. I'm going to do 1u on the draw at 3.35 odds. Seems a good game for it.
Nothing at all on Chelsea vs Tottenham. On paper Spurs are a good bet with the Chelsea struggles and their value but I'm not touching it.
EPL Daily Fantasy: I like Arsenal offensive players. They look a good shout for defensive play. Liverpool I'd be slightly concerned about defenders and I wouldn't touch any of them. Think I might go with a good cheap option in Schlupp. In Leicester vs Brighton. That's the game where I expect a goal apiece and if you can pick the goalscorers you're good.
Click here to play Daily Fantasy EPL.
NFL Betting Tips:
Bucs vs Rams:
I know lots of Bucs fans who are nervous about this one as Brady looks to go 22-4 in playoffs at home.
The Bucs really haven't faced the best QBs when you look at the data, and they're a team you don't mind passing against.
Stafford will like that no doubt.
It's hard to bet against Brady in the playoffs though isn't it? Thing is you look at the Bucs injury list and it's concerning. He may have to get the ball off fast. Fournette being back will help them.
The Rams won't be running the ball much here. It's set up for a big passing game. It certainly needs Stafford to step up. And that's the big question of course which has plagued him all season.
I just think their pass game will be too much for a beat up Bucs team. As a Pats fan and thus a Brady zealot – I won't mind too much if I lose this one. Rams +3.

Chiefs vs Bills:
The Bills really need to step up here if they are going to take out the Chiefs. The Chiefs are on an absolute tear.
It's really all about if the Bills can play to the best of their abilities. If they do, they win this one. There has been some games this season though where things have been very concerning.
The way the Chiefs are playing this will be a much different game than in October obviously.
I don't know. I just cannot buy into this Bills team enough. I backed them last week nice and easy against the Patriots. But I just feel the Chiefs will be too good for them.
One concern for them though is Tyreek Hill.
I just am not drinking the Bills kool-aid yet. And when Mahomes has the momentum he has? Yeah I have to go with Chiefs -2.
Bet Horse Racing - +£21,565.98 profit on £25/pt staking. Click for more details.
(Advertisement but we have tested it out and have been quite impressed with it)
Follow @SBTSportBetting