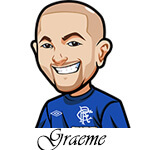 Follow @SBTSportBetting


[Get Exclusive Tips on our Patreon, Ad-Free
]
Hi everyone,
It was a nice winning weekend last week. We had a $900+ return in the golf, and a 4-2 weekend in the NFL.
I skipped golf this week just due to the setup of the PGA and multiple courses, and the Abu Dhabi being a new course.
I'd also taken a bit of a break from the EPL due to COVID wreaking havoc with scheduling. Things seem a bit more balanced now so I'll get back to EPL as of today.
So we'll cover the Saturday EPL games, and as a $10,000 Draftkings Winner this season – sorry but I'm still so pumped about that – I'll give my Daily Fantasy Sports advice.
Then we'll cover NFL as well. I'll do a fresh post tomorrow for the Sunday games. So let's get into it:

EPL Betting Tips: January 22nd, 2022
For confidence levels I'll go with a 1-3u system.
Everton vs Aston Villa:
The new manager syndrome is wearing off a bit at Villa and now they take on Everton, who just sacked Rafa Benitez. Duncan Ferguson will be in charge.
Villa do have Coutinho who has made an instant impact with the squad.
I feel like this will be a good match. Big Dunc can get the team fired up, and I respect Gerrard a lot. Everton have also got on the scoresheet a lot. 2u on Both Teams to Score at 1.75 odds.
Brentford vs Wolves:
Brentford come in on a tough three game losing run. Wolves come in on a 4 game unbeaten run and are solid away. Wonder if we will see Chiquinho play in some manner.
Anyway it's a solid enough price for Wolves. You do have to be concerned about their weak goalscoring, but Brentford are one of the worst in the league. 1u on Wolves to win at 2.55 odds.
Leeds vs Newcastle:
This is one of those games that has a high potential for goals you feel – but man, Newcastle struggle to score so much lately.
They are yet to get an away win, their form is still piss poor.
Leeds are a decent enough home side. Both teams do concede a ton so there is that, but happy to go with 1u on Leeds at 2.00 odds. They're missing a few players which is concerning but Newcastle are still beatable and Leeds can be good at home. Feels like a 2-1 to Leeds type of game.
Man Utd vs West Ham:
Man Utd are just the worst team to trust. On paper they should be winning this but man they have blown it so many times.
West Ham are solid away with a 6-2-3 record. Decent form. Man Utd are heavy favourites based primarily on name value. I was tempted by Draw or West Ham but 1.83 is a bit too tight for me.
Southampton vs Man City:
Pretty much unbettable. Not going to risk anything on the handicap away.
Daily Fantasy Sports: This is one week where clean sheets will be hard to come by it seems like. So I would advise mixing goalkeepers and defenders up, one per squad. Wolves can be good at keeping clean sheets, and have a good chance of winning so that's where I would look for a goalie.
Offensively, I like Leeds players and to a lesser extent, Newcastle. I'll be looking to lock in Fernandes, and a West Ham player may not be the worst to have offensively. Bowen is on fire.
Click here to play Daily Fantasy EPL.
---
Bet Horse Racing - +£21,565.98 profit on £25/pt staking. Click for more details.
(Advertisement but we have tested it out and have been quite impressed with it)
NFL Betting Tips
Bengals @ Titans:
The Bengals come in off that 26-19 win over the Raiders. Personally I thought the Bengals were there for the taking if the Raiders really pushed for it – but they just didn't seem to at all. Burrow had a quiet game compared to his most recent performances.
It's impressive he hasn't been picked off in 5 games. The Titans pass defense is decent enough although have been ripped open a few times this season and everyone loves to throw against them.
Derrick Henry is returning and that is mental. Unfortunately for me – that makes this one a no bet in terms of who will win.
If Henry isn't playing, I'd say take the Bengals for sure. If he is – man, he hasn't played in months. Are we really gonna see vintage Henry? I'm not sure and I'm not going to risk anything on that.
Like I said though – everyone likes to throw against the Titans. Bengals will be no different. So I'm going to go with a Burrow prop based on him throwing a lot.
Lot of options. Passing yards is over 277.5. Passing attempts is over 35.5. Passing completions is 24.5. Chase will have Fulton on him which will be a fun competition with them being teammates but I still think Chase can do the business. I also think Higgins will get a lot of action here as he should beat Jenkins a lot.
I like that one. Titans average 23.2 completions against this season and I expect this to be closer game so Burrow throwing more. Burrow Over 24.5 Passing Completions. If you're American, bet this at Bovada. For everyone else, it's available at Bet365.
49ers @ Packers:
One of my best friends is a 49ers fan, and all week long he's been trying to convince me that the 49ers are going to win this game. Actually he's just trying to convince himself – you can tell.
I have to expect the 49ers rely heavy on the running game here. It's going to be a chilly one as well in Green Bay.
Nick Bosa looks to be playing which is big for the 49ers pass rush for sure. They need to rely on the pass rush big time because if Rodgers has time on his hands here he will rip their backfield apart.
The 49ers rushing D will mean they need to rely on Rodgers. It's interesting as I have seen so many people thinking the cold weather will be bad. However Rodgers has a very solid record in the weather. 28-8 with a 6-3 record when it's freezing or below.
Sorry David – I'm going with Packers -5.5. I respect what the 9ers have been doing lately but I've been blown away by Rodgers this season – as much as I hate the guy – and he sounds very fired up for this one. I wouldn't bet against him.
Bet Horse Racing - +£21,565.98 profit on £25/pt staking. Click for more details.
(Advertisement but we have tested it out and have been quite impressed with it)
Follow @SBTSportBetting