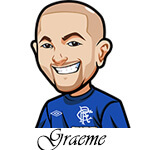 Follow @SBTSportBetting


[Get Exclusive Tips on our Patreon, Ad-Free
]
Hi guys,
Big multi article today with my NHL Quick Hits, some good ol Thursday Night Football to look forward to, and then tonight's EPL action.
What a great day to be a sports fan. Can you imagine not enjoying sports? Life must be so boring.
Let's start with the EPL as that is earliest.
EPL Bets / DFS Tips:
Came 5 points from a cash yesterday in Daily Fantasy. So close! Wolves let me down not getting a goal. Jimenez put up just 3.32 points frustratingly.
It's been a profitable week so far thanks to that Southampton vs Leicester draw. It would have been better but we got screwed by TWO late goals. That penalty in the Palace game, and that 89th minute equalizer by Maupay against West Ham.
Thoughts on today:
Bet Horse Racing - +£21,565.98 profit on £25/pt staking. Click for more details.
(Advertisement but we have tested it out and have been quite impressed with it)
Tottenham vs Brentford: I picked Spurs in a survivor contest I am in, so they better come through. Daily fantasy wise, Spurs are most likely to keep a clean sheet out of the four teams. I also think of the strikers, Harry Kane is worth the pick. He's a very low price too.
Betting tips wise – Spurs are generally solid at home. Losses to Man Utd and Chelsea are their only ones. Brentford are pretty good at scoring so despite backing LLoris in fantasy, Both Teams to Score seems tempting. Spurs concede a lot so yep – I'd say Both Teams to Score at 1.90 is fine.
Man Utd vs Arsenal:Daily Fantasy wise I have no idea. Man Utd are an enigma right now. Arsenal are crushing it for the most part and seeing them bounce back after that Liverpool result was great. I think you just have to pick a narrative here – do Man Ud get it going with new manager syndrome? Even if Carrick is still in charge? Or does the form of both teams dictate a big Arsenal win? Pick a narrative and risk it.
Personally I feel Arsenal are not getting any respect here. I think Draw or Arsenal at 1.80 is a fine value play. Man Utd without a few players although will have Maguire back. Ronaldo of course could be fired up here.
If you want to play Daily Fantasy EPL or any other sports, we recommend FanDuel – $500 Deposit Bonus.
NFL Cowboys vs Saints:
The Cowboys are -5.5 favourites here. Thursday Night Football has been weirder than usual this season. Cowboys come in off that tough Raiders loss and a two game losing streak.
Saints come in off that drubbing from the Bills and are on a 4 game losing streak. The Saints D is struggling lately. Tayson Hill expected to play for Saints.
Lamb looks to be back for the Cowboys. Cooper is questionable. Not sure about Zeke but Pollard has been looking decent enough.
Like I said, TNF is weird, but if Lamb is in I would say Cowboys -5.5 is fine although hopefully you got on it earlier in the week. Small bet only. If Cooper is in, that's a 100% play from me.
NHL Quick Hits:
Panthers vs Sabres: Panthers very big favourites. Would have to take them at -1.5. They've had a few struggling games – actually a very all over the place month – but come in off a great performance over the Capitals. They are pretty solid for covering the -1.5 while Sabres are mixed in that.
What about Empty Net Stats? Buffalo have conceded 5 times in 11 empty nets. Florida meanwhile, have a 7 goal success rate playing against an empty net in 12 games. This is a very marginal play, but the empty net stats are enough to make me say Florida -1.5 is an okay play.
Lightning vs Blues: These two just played in St Louis in a tight one. The Blues are brutal on the road at the moment after that good start from them. Stamkos may be out tonight so I can't back Tampa – but with the Blues road woes I can't back them either.
Canadiens vs Avalanche: You'd think the Avs would want to bounce back after last nights humiliation. Would have to be in regulation. Montreal are dire. Avs bounce back well. Look at the loss to the Stars then a 6-2 win over Preds. Or loss to Jackets and then 7-1 win over Canucks. All the changes in Montreal didn't affect things against Vancouver. If they turn it around here then so be it, but Avs have had a game to adjust to MacKinnon and I like Avs in Reg.
Bet Horse Racing - +£21,565.98 profit on £25/pt staking. Click for more details.
(Advertisement but we have tested it out and have been quite impressed with it)
Capitals vs Jackets: Caps coming in off that tough Panthers loss. Blackhawks stumbling a bit and I think Caps will be fired up. Happy to go with Caps in Regulation.
Hurricanes vs Senators: Hurricanes are concerning me at the moment. This is a good spot to get back on track. Would have to be Hurricanes -1.5. I'm not a great fan of the odds, but considering the way the Sens have been recently I think this is a solid spot for Canes to right the ship. I'm fine with Canes -1.5 here.
Islanders vs Sharks: Easy skip for me with the variance due to the Islanders COVID break etc. In saying that, as slight underdogs Sharks are tempting especially with their last couple of road performances. I guess it depends who is all out for Islanders tonight – but I'll be looking at the lineups prior to the game, and may take the Sharks.
Predators vs Bruins: I don't really trust the Bruins this season. They look iffy to me. Preds are a tad inconsistent right now. However they are coming in off that Forsberg momentum game and will be hot. Bruins have issues with COVID and locker room issues. Yes I think this is an easy play on Preds to win incl OT/SO for me.
Wild vs Devils: Wild on a nice little winning streak. Devils have been inconsistent at best. At a glance, I feel we can have faith in this Wild offense who are ticking. Wild in Regulation
Stars vs Jackets: Dallas absolutely crushing it at the moment and beating teams of every tier. Jackets however can be a match for teams. I think mathematically and form wise, the Stars are a decent bet. But there's something about this game that puts me off. I feel like the Jackets cause issues for the Stars here.
Kings vs Flames: The Kings are a tricky team. This could be a tight game. I slightly lean Flames incl OT/SO but not enough to back as the odds are not good enough.
Bet Horse Racing - +£21,565.98 profit on £25/pt staking. Click for more details.
(Advertisement but we have tested it out and have been quite impressed with it)
Follow @SBTSportBetting