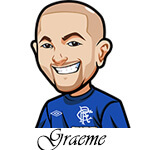 Follow @SBTSportBetting


[Get Exclusive Tips on our Patreon, Ad-Free
]
It was a successful start to the soccer tips this season which was nice. Although I've been posting betting tips publicly for almost 20 years now, and understand the laws of variance and never let losses get to me – man, that first week is always such a pressure cooker I feel. Always nice to get off to a positive start.
Only Dundee Utd let us down, as they couldn't break down Dunfermlines anti-football.
Feeling good about the Scottish leagues at the moment, so of course it's cup weekend there. Lot of oddities that can pop up so skipping that. I did watch every single EPL game last week though, so let's see if anything pops out from the English Premier League this weekend. 1u unless stated otherwise.
Tottenham vs Man Utd – Over 3.5 Goals @ 2.37:
Bah – I hope I don't get burned on this one.
Long story short, being a Rangers fan, I am well aware of Angeball. And I know that it's going to take a bit to settle, and things are going to be a mess. So while I avoided EPL last week, at the last minute I bet over 3.5 in the Spurs game at 2.75 odds, and was mad at myself for not posting it as well. Then of course 4 goals nice and easy.
So there's a bit of – I dunno what you call it, but that's kind of affecting this bet a tad in that I felt like I was going to force this bet in whether I liked it or not.
We know about Angeball, but what about Man Utd? Well their game against Wolves was full of chances. It's mental that one only finished 1-0. It felt like neither team could get anything right in the final third. Man Utd were split apart a lot, and there were enough chances.
I feel like Ange will play the same style against Utd. Should make for an open game, and hopefully Man Utds finishing is a bit better. So yeah I think there's merit to it but I did explain why I'm making this pick above just to be completely upfront – it's a good part because I'm mad at myself for not recommending it last week.
Notts Forest vs Sheff Utd – available only on Patreon
Man City To Beat Newcastle @ 1.70
Loved watching Newcastle play last week. Saudi crap aside, it can be pretty fun watching a team being a massive power overnight.
The bookies are giving them respect in this one, but that just makes it enough for Man City to be worth betting. They just feel the more complete and comprehensive team. Yeah they're without De Bruyne, yeah they played in midweek as well. Two legit concerns. If this was at St James Park, I'd not touch it.
This will be a much bigger game for Newcastle, and I don't think City will make the same mistakes Villa did in letting them play that way.
Nothing for Sunday or Monday at the moment although I'll have a look at them tomorrow and see if anything jumps out.
Follow @SBTSportBetting