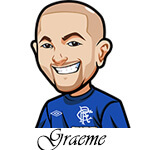 Follow @SBTSportBetting
A 2-0 day in the UEFA Champions League yesterday.
Thank F for that.
Seriously. If you look at the stats on the sidebar you'll see October was a 29-49 month for -21.5 units. Our biggest losing month ever. That was primarily due to me attempting to tip the Champions League group games.
I mean it was my own fault. I took a casual approach to it rather than the thorough analysis I did this week. But still – I lost over 17 units on that.
So after studying the Tuesday games and going 0-2? Man I was feeling down. Even if I could justify them. I was still very frustrated about it. So it was a nice relief to go 2-0.
We had Atalanta and Valencia to go over 2.5 goals. That one was a fun one as expected. The injuries to Valencia affected them and Atalanta ran out 4-1 winners. Will be interesting to see how the second leg goes. Valencia won that one on xG stats 2.3 to 1.6 they just couldn't finish.
We also bet RB Leipzig to win at 2.70 odds and it relied on a penalty, but they got the 1-0 win there. A draw mighta been the more accurate result there but we'll take it!
Anyway nice to get confidence restored! Let's look at the EPL games taking place on Saturday, February 22nd:
Burnley vs Bournemouth Betting Tips:
Bournemouth are hovering just above the relegation zone currently. They had two big wins over Villa and Brighton at home then lost to Sheff Utd. Their road miseries continue and they are now just 3-1-9 on the road.
Burnley are a hit and miss team at home with a 6-1-6 record. They have however racked up 4 impressive results with a draw against Arsenal, and wins over Southampton, Man Utd and Leicester. They now find themselves in 11th spot in the table, just 5 points out of the top 6. Impressive stuff.
Burnley may have been a bit fortunate at times but they are still earning the wins and looking good. Bournemouth do have Larma back.
Burnley beat Bournemouth away last time these two played.
Bournemouth may be a bit rusty as it has been a couple of weeks since they played. Burnley have been solid at finishing and I always like to back a strike force that is working well. They came back from their break with that 2-1 win over Southampton.
(Odds on this page are correct as of 2020/02/20 10:14:35 AM EST but are subject to change)

Sheff Utd vs Brighton Betting Tips:
Sheffield United currently occupy 6th spot. They have been playing well although haven't played since the 9th. I've got to hope that even though they may be a bit rusty, they'll be itching to get back out there.
Brighton also haven't played since the 8th so kind of cancels that out.
Brighton have been on a bit of a slump. The way Sheff Utd came from behind to beat Bournemouth was massive, sent them into the break with confidence and will have them optimistic.
It's do or die for Brighton right now but I don't know if they have the grit.
(Odds on this page are correct as of 2020/02/20 10:14:35 AM EST but are subject to change)

Follow @SBTSportBetting