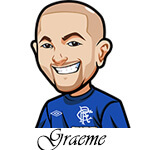 Follow @SBTSportBetting
It's a big weekend for sports. The NFL enters Week 2 with some huge games yet instead of covering that, I'm going to cover WWE and soccer!
If I'm feeling up to it I'll do NFL Week 2 Betting Tips tomorrow. Just depends – pretty busy weekend coming up.
For now let's dive into the tips. Two EPL games stood out to me, and there's some decent enough action for WWE Hell in a Cell.
EPL Betting Picks – Sep 14th, 2018
In the Tottenham Hotspur vs Liverpool game I am going to bet on Tottenham to win (Draw No Bet).
That means that if it is a draw I get my stake returned. Only way we lose is if Liverpool win.
See here's the deal – Liverpool have looked great this season. I'll admit that. Hell I enjoy watching them a lot this season and they have an electric attack.
But they haven't been tested yet. The best team they played was Leicester and that was a relatively close one. This is the first test against a team you can put in the top tier.
Tottenham meanwhile have had two big tests. Sure Watford may not sound like a big test but when they're a high flying team like that you have to be wary. As it is complacency was the big issue for Spurs and that cost them I feel. They faced a top tier team in Man Utd and weathered the storm in the first half to come out to thump them.
I just feel this one is a great price and even though Spurs have their issues I'm fine backing them.
I'm also taking Watford or Draw. I don't want to say I don't rate Man Utd this season but so far they have given me nothing for me to say "yep this is a great team". I mean probably the best football they played was that first half against Spurs and they ended up losing the game.
They've got a lot of issues and while they could send Watford crashing back to earth I'll take the risk on them this weekend.
Notable Upcoming Bets:
WWE Hell in a Cell 2018 Bets:
Small bet on Miz/Maryse to win. I feel they have a good chance and they are a decent underdog at +325 odds. Well worth the bet there.
I'm also crazy but at 365 I am going with Roman Reigns. Not a big fan of those bets but man I just cannot see this man losing the title here. It just doesn't seem possible after everything they have did to get it on him. I'd like to say nothing in WWE and their booking shocks me but oh man this one – yeah it'd shock me.
The only other one I like is Samoa Joe to win. Slight underdog at +125 odds and that seems alright with me. I really feel like AJ has had his run and it's time to give someone else the ball now.
Ronda should win but insane odds not worth it. Orton will probably win but I'm just not as confidend in him at -380 odds.
Follow @SBTSportBetting