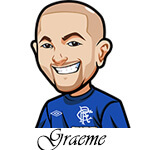 Follow @SBTSportBetting
What a bizarre day in Euro 2020 yesterday.
We had two bets. Holland to win & Under 3.5 goals double, and Both Teams to Score in Macedonia vs Slovenia.
At the 93rd minute of each match it was a 1-1 day. Slovenia were down 2-0 while Holland were up 2-1.
I was watching the Holland game primarily and was left sick when a big counter attack saw Depay slide it home to lose our bet.
Then I glanced over at the other game only to see Slovenia get a penalty. Which they scored to make it a 1-1 day!
Funny how I went from "meh 1-1 slight loss I'll take it to "OH MY GOD 1-1 BREAK EVEN DAY THIS IS THE BEST DAY EVER".
Betting on sports is the best.
Alright so we've got October 11th Euro 2020 Tips on the go for today and I'll cover tomorrows Euro 2020 action righ there.
Let's get to it:
Ireland vs Georgia Betting Tips:
An interesting game in what is a tight group. Georgia are assured of at least the playoffs along with Denmark and Switzerland. Ireland are not but are top of the group with some solid results so far.
Georgia are really struggling to score. Their results have been quite poor and generally establish where they stand on matters.
Ireland just seem to be playing it very tight and know what to do. They have picked up draws againts some of the other top teams in Denmark and Switzerland, while beating the teams that are generally blow them in tight affairs.
I've got to think it will be similar here. This is a very tight group and a point isn't good for Ireland. They need a win here to give them some breathing room at the top before heading into clashes against Denmark and Switzerland.
Ireland are not a fun team to watch these days but they know how to grind out the victories and I think they are able to get that going again today. I was leaning strongly towards the draw initially, but I think Ireland have got this.
(Odds on this page are correct as of 2019/10/11 8:23:07 AM EST but are subject to change)

Bosnia vs Finland Betting Tips:
It's one of those days where there is a lot of heavy favourites. The only other option for a game is Denmark vs Switzerland so we'll go with this one.
This one is in Group J. Both teams are already assured of at least the playoffs. Finland however are looking good for automatic qualification with 4 wins out of 6. Armenia are breathing down their necks with 4 games left though, and Bosnia are also not too far behind.
Finland have been solid so far. They have lost 2 games both against Italy but they were close ones. They've been able to get out here and get the points.
Bosnia lost that key game 4-2 to Armenia back in September that really hurt them. I can't see Bosnia winning this one.
(Odds on this page are correct as of 2019/10/11 8:23:07 AM EST but are subject to change)

Follow @SBTSportBetting