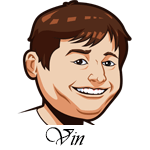 Last night, we saw the NLCS get set as it will be the Cardinals taking on the Nationals. Record-wise, these were the two worst teams still alive in the playoffs but they both moved on. The Cardinals will have home field advantage in this series despite having a worse record than the Nationals since Washington was the Wild Card team.
For the Cardinals, they forced a game five against Atlanta and then scored 10 runs… in the first inning. Unbelievable. This was a walloping and the Braves will look back at this series with regret as there were some opportunities they left on the table.
The big news of the night was the Nationals doing it again. This team was down 3-1 to the Brewers in the Wild Card game before mounting a comeback in the eighth. In the deciding game of this series, they were once again down 3-1 in the eighth and this time they tied it up. The game went to extras where Howie Kendrick hit a grand slam.
This is the first time the Nationals have ever been in the NLCS and, for my money, they might be the favorite here. This team finished the regular season 9-1 and just keeps coming back in the playoffs. Plus, they have three of the best starters out there.
Notable Upcoming Bets:
NFL Betting Tips:
New York Giants at New England Patriots: The Patriots are big favorites here at -17 and it makes perfect sense. The Patriots have been great thus far and the Giants are, well, the Giants. New York will be without Saquon Barkley here and I don't see them having much of a chance here.
For reasons I'm not completely sure of, the total on this one has dropped down to 42 points after opening at 46.5. I think this is where the value is. The Patriots have scored 30 or more in four of their five games this season. Their defense has been stingy, but I think there is a solid chance they hit that number on their own and the Giants should be good for seven here if they need the help.
Bet Patriots/Giants Over 42 points
College Football Betting Tips:
Syracuse at NC State: Syracuse had a breakouts season last year and some expected them to continue that this season, but that hasn't been the case thus far. They are 3-2 with two bad losses to Power Five Conference teams.
That said, NC State has some of their own struggles as they are moving on from QB Matt McKay and going with Bailey Hockman. This is a weird time to make a QB shift and this could be a desperation move from NC State.
That's what I think it is and I am expecting Syracuse to come out strong here. NC State didn't look great last week while Syracuse has won two straight. Yes, the competition wasn't as elite but confidence is high for this team and the QB switch for NC State is a much bigger deal than is being reported.
WNBA Finals Betting Tips:
Connecticut Sun at Washington Mystics: The Sun forced game five with a big win at home in game four. In retrospect, I probably should have seen that coming. Connecticut was one of the very best home teams over the season and pretty much always has been.
That said, all the things I said about Washington in game four apply here. This is the deeper team and they are the better team. They are a decent sized favorite here for a reason. When they've won in this series, they've won big. It doesn't get much bigger than this.