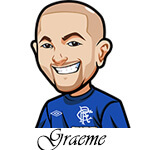 Follow @SBTSportBetting


[Get Exclusive Tips on our Patreon, Ad-Free
]
A 2-0 day in the UEFA Champions League yesterday.
Based on last weeks results, we'll end up going 0-2 with todays tips ha.
That was nice though. Particularly the Bayern Munich win. That was one where I looked at it and just felt Bayern were the much better team. That was the case in that game. Chelsea did what they could but all game long you just felt like a goal was coming. Well done to Bayern there.
We also won with Napoli or Draw against Barcelona. That was a hell of a game and personally I think Napoli were unlucky not to actually win that one. Hopefully they go positive in the second leg.
In other soccer news – I'm sure many of you know the game Football Manager (formerly Championship Manager for us old school guys). I haven't played it since FM 17 and even then it was only a short game. FM 14 was when I last really got into it.
I've actually BOUGHT it every year but couldn't get into it. I don't know I think I just got frustrated with the match engine and the players not following tactics like they should etc. I'd start it up, spend hours on it getting set up, doing pre-season, scouting, friendlies, tactics, training etc etc then I'd play 3 games in it and get bored.
Well since November I have been planning on playing this one and going Cove Rangers who are in Scottish League Two. This was primarily due to Fraser Aird whose dad I am friends with and who I think is a hell of a player. I was going to build the team around him. He ended up leaving them due to controversy at the end of 2019 but I edited him in and finally started up the game with the new transfer update just a couple of days ago.
I am absolutely hooked on it ha. So if I go days without tips that's why – too busy playing Football Manager. Haven't even played my first league game yet but I did have this banger of a match in the first round of the challenge cup:
Went down 2-0. Fought back to 2-2. They went up 4-2 immediately. Got one back. 94th minute we got a corner and it got cleared. The left back Harry Milne, with finishing of 3 and long shots of 4, came running in and just volleyed it home from 30 yards. Amazing. And we won on penalties.
Great to finally be back on the FM addiction. Do many of you play it?
Right enough about that (for now anyway). I said I wasn't going to cover the UEFA Europa League but eh – I figure why not do a couple of small plays to peak my interest for Thursdays games. These are more casual plays as I browse through and look for betting opportunities so let's do a few even if I feel a bit out of my element:
UEFA Europa League Betting Tips:
Inter Milan -1. 0.5u. 2.10 odds. I mean Inter aren't just going to float here are they? Ludogorets are a decent enough team and Inter won't want to get complacent. Especially with everything going on in Serie A and having their game postponed.
Man Utd win to nil. 0.5u. 2.05 odds. United haven't conceded a goal in 3 games in the EPL. They have not conceded a goal at Old Trafford in Europe. Brugge are a dangeorus bunch but I like that. I mean the goal the scored against Utd was an OG.
Arsenal/Celtic Double. 0.5u. 2.16 odds. Arsenal don't play till Monday so I expect a strong team here for this one as they look to wrap it up. They have been pretty solid in Europe. Celtic are Celtic.
That's all that jumps out at me. What are you guys playing in the Europa? I didn't dive too deep into all the games.
Follow @SBTSportBetting